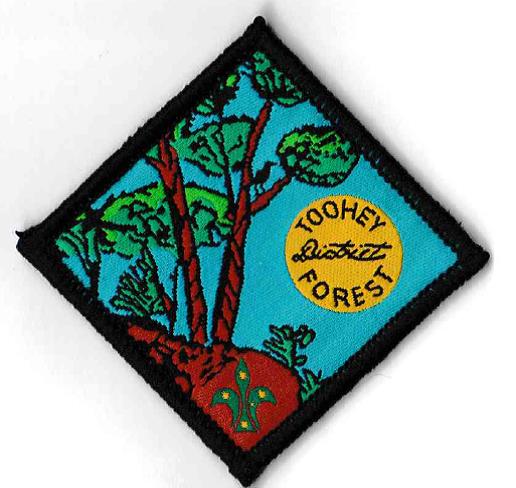 Badge Description
Scout logo
Sun = This appear to be a standard design on most Brisbane South Region district badges
Tree and Hill = Toohey Forest Reserve and Mt Gravatt Mountain.
Bird in Tree (2018 badge issue) = Raven which represents Warren Hope, District Commissioner, who was instrumental for reinvigorating and re-structuring the district after the passing of the previous District Commissioner William Whitestyles [2]
History
Toohey Forest district is named after James Toohey, an Irishman made wealthy in the California gold rush. He selected these lands in 1872 and his family held the forests until Brisbane City Council gradually acquired them after 1945.  Toohey Forest district was formed in 1988, and the first District Commissioner was Ron Baker [1].  It was re-structured in September 2018, where Tarragindi and Clifton Hill Scout Groups where transferred into Ekibin District.
Groups
Toohey Forest District Groups (1988):  Buranda Scout Group, Chester Estates Scout Group, Clifton Hills Scout Group, Downlands Scout Group, Gardner Scout Group, Liahona Scout Group, Mount Gravatt Scout Group, Rochedale Scout Group, Stephens Scout Group, Tarragindi Scout Group, Toohey Mountain Scout Group, Upper Mount Gravatt Scout Group, Hellers Hill Scout Group, West End Scout Group [1]
Toohey Forest District Groups (2016-2017): Clifton Hill Scout Group; Majestic Park Scout Group; Mount Gravatt Scout Group; Rochedale Scout Group; Tarragindi Scout Group; Upper Mount Gravatt Scout Group; Victor Scout Group; Wishart Chester Scout Group [3]
Toohey Forest District Groups (2018): Majestic Park Scout Group; Mount Gravatt Scout Group; Upper Mount Gravatt Scout Group; Victor Scout Group; Wishart Chester Scout Group  (4)
References
The Scout Assoc of Australia, Queensland Branch (1988). Brisbane South Area Directory.

Hope, W. (2018). District Commissioner, Ekibin District and Toohey Forest District. Personal communique 20.12.2018

Scouts Australia, Queensland Branch (2018, March 7). Formation listing 2017. Retrieved from https://scoutsqld.com.au/members/formation-listing/

Brisbane South Region (2018, April 14). Brisbane South Region Facebook site. Retrieved from https://www.facebook.com/BrisbaneSouthRegion/