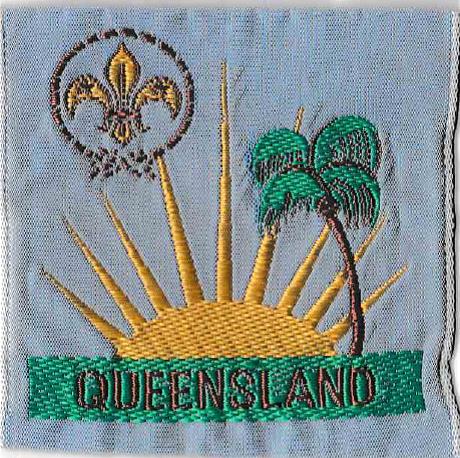 Beginnings

This project started in 2015 when a group of Queensland Scout Leaders, from Charles S Snow district, were attending a Scout Section Skills (i.e., Triple S) camp, and were sitting around a cooking stove lamenting about how their scouts were progressing with the Citizenship Target badge.  The concern was that the scouts did not know enough about the history of their district, and what their district badge symbolised.  It was suggested that one potential way to assist the scouts was to provide a central website where they could find out about their districts and regions, via understanding their uniform district/region badge.   Hence collation of information for this project began.  I hope you find this website informative and enjoy the Queensland's heritage as portrayed through Scout badges.

Project Lead
Queensland Badge Histories
Webpage Content
The purpose of this website is to provide a historical description of each Queensland Area, Region and District badge.  Each web-page would include the following:
Image of the badge.

Links to geographical locations, and local history, of the place where the Scout Groups in the district were/are located.

Dates when the area, region or district commenced (if known), and closed (where relevant).

Names of the District or Region Commissioner during these opening and closure dates (where possible).

Brief description of each component of the badge.

Year when the first version (design) of the badge was issued (note: this is  not necessarily the image of the badge on the page, but a similar one that that may be older).

Names of the Scout Districts or Groups that were within the locality at various points in time.

Reference list of sources of the information. The numbers in "[  ]" relate to the order of the references in each web-page.
Badge Varieties 
Whilst researching the history of the badges displayed, it was noted that there were many varieties of design and manufacture of each badge. The differences usually occur when there is a change in policy or a different manufacturer is used.  Whilst some differences are obvious, others are more subtle. Obvious differences would include changes in wording, design, colour, shape and binding. Subtle differences would include  changes in the shade of colour, different backing, and slight changes in size (i.e., several millimetres).  As the number of differences in design and manufacture are endless, this web-site does not provide all the information on these differences.  What is depicted are major changes in design of the badge.  Readers who are interested in the varieties of each badge should contact members of either the Queensland Badge Club, Australian Badge Club or the International Badger's Club who specialise in this type of information.
Youth Program Ideas

The Queensland Badge Histories website is a journey across Queensland through every scout county, area, region and district badge that has been produced.  Within the website you'll find images and descriptions of badges, scouting history, lists of groups, links to local history and maps.  With the wealth of information at your fingertips, there are many parts of programs and games that can be developed to encourage Youth Members to work on Special Interest Area (SIA) projects based on the information in the website.   
Acknowledgement
The many badge images and information contained in this site would not have been possible without the generous time, patience and information on badge "lore", local history and images of badges provided by Lynlie Cross, Peter Mc Leod, Kirsty Brown, Bryan Brown, Jean Clifford, Peter Blatch, Rob Thurlby, Dougal McWhinney, Peter Digweed, Ken Millers, John Finn, Merilyn Andrews, Geoff Andrews, Kelly Milton-Turnbull, Gillian Hall, Joanne Hamilton, Lesley Hanson, Stephen Kydd, Brent Bennett, Anne Bennett, Patt Dryden, John Parr, Norm Holliman, Karl Lingard, David Teufel, Robyn Teufel, Jenny Staddon, Bob Campbell, Sharon Barritt, Brian See, Paul Tuckwood, David Thomas, Rob Cullen, Jim Bell, Nathan Swaffer, Margaret Flecker, Peter Rasmussen, Gary Murray, Lyle Bird, Michael Preston, David Griffith, Peita Griffith, Glen Thiess, David Jamieson, Enid Cole, Hsien-Jin Teoh, Christine Long, David Thomas, Helen Whittington, Warren Hope, Ivan Hewett, Michael Armitage & Braeden Monnier, and many other people that I have encountered on these travels.
Additional References
 In the course of compiling information, a variety of books, letters, magazines, directories and memos have been cited.   In addition to this the following books have provided additional information on dates, locations and other relevant historical facts:
1. Fones, R. (1992). In the light of all the years: A history of Scouting in Queensland. AEBIS Publishing House: Brisbane , Australia.
2. Green, B. J. (2010). A history of Gympie regional scouting 1908-2009. Moonga (Gympie) Sub-Branch of the Baden Powell Guild of Queensland Inc: Gympie, Australia.
3. Haskard, D. (1983). The complete book of Australian Scout badges, Part 2: Queensland and Papue New Guinea, 3rd Ed. Badgophilist Publications: Chatswood, Australia.
4. Madden, J. (2012). Scouting yarn of the Darling Downs: A history. The Scout Association of Australia, Queensland Branch Inc, Darling Downs Region: Toowoomba, Australia.
As with any archival project, new historical and location information is constantly emerging. Please email any amendments, corrections, and updates to:  Project Leader email: badgehistory@scoutsqld.com.au