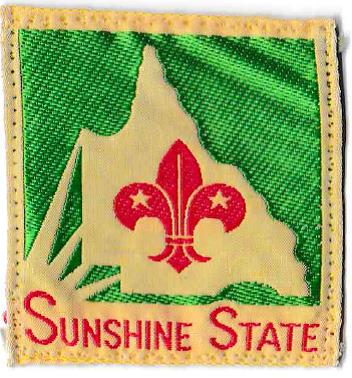 Patrols to Regions:
The Start of Scouting in Queensland
The evolution of Troops, Groups, Districts and Regions that most scouts are familiar with in 2020 has a somewhat turbulent past in Queensland, with regular changes in titles, and administrative function. On this page, we seek to provide the reader with a brief description of the history of how these terms have emerged, and evolved, during Queensland's scouting history.
Patrols
Scouting first started in Queensland when 4 scout "Patrols" were formed in 1908.  Initially, entry into scouting was via membership of organisations that sponsored these patrols (i.e., religious groups, private schools). As time progressed, an 'open system' of membership was introduced. When several patrols were grouped together, they formed "Troops" and the first troop that was registered in 1909 (i.e., 1st Kangaroo Point).
Local Associations
In the 1920's multiple troops were grouped together to form a "Local Association" which was led by a District Scoutmaster, who was responsible to a District Commissioner.  Some districts had multiple "Local Associations", and in the early 1920s, Brisbane District had three of these "Local Associations".  As time progressed, the "Local Association" had set-up a formal committee which supported the whole District, rather than just one section of it. The first "Local Association" that was established in support of a whole district was Mount Morgan in 1924.
The concept of the "Group" which encompassed multiple sections (i.e., Cubs, Scouts, Rovers), only emerged in 1928.  From then on, several Groups combined together to form a "District".  By 1933, the concept of several districts being grouped together to form a "County" (i.e., Brisbane County) was introduced.  In 1965, the title "County" was changed to "Area", where the "Area" was responsible for a variety of administrative and training functions through local "Area" offices.  Somewhere around the mid-1960's the term "Local Association" was formally changed to "District Association".  By 1983, Districts and Groups in the country areas were designated "Regions" where the administrative and training functions were managed by Queensland Branch Headquarters, and supported by 3 Field Commissioners. By 2003, the administration of scouting in Queensland is centralised at Queensland Branch Scout Headquarters, and all "Areas" are renamed "Regions".
Chronology of the Organisational Evolution of Scouting in Queensland
1900 - 1930
1908 The first four patrols formed in Queensland were at:
-St Mary's Church of England, Kangaroo Point
-Congregational Church, Bowen Hills
-Methodist Church Gordon Club, Ashgrove
-St Thomas's Church of England, Toowong
1909 7th September, The Australian League of Boy Scouts, Queensland Branch was formed
1st Troop (i.e. 1st Kangaroo Point) is registered in Queensland
1910 "Australia League of Boy Scouts, Queensland Branch" affiliated with the English League of Boy Scouts, and the name was changed to "League of Baden-Powell Scouts, Queensland Section".
Scout 'Divisions' and 'Districts' were established
1922 Federal Council of Australian Scout Groups established
1923 'Divisions and 'Districts' were reorganised and Central Queensland District was established
1924 Brisbane Division designated a district, with Local Associations grouped under it
1925 1st occasion where a committee with a President and Secretary appointed to support a Local Association at Mount Morgan and District at Brisbane District
1928 The Group System adopted where the 'Group' oversaw the various sections 
1929 Queensland Branch took over the adminstration of 'Northern Territory Scouting' from New Scout Wales Branch, and continued to administer until 1955, when the South Australian Branch took over
1931 - 1960
1933 Brisbane County formed, with four Metropolitan Districts:
-Brisbane North East District
-Brisbane Central District
-Brisbane South District
-Brisbane South West District
1934 Queensland Branch consisted of 16 Districts, which included one New Guinea District
1943 Queensland Branch consisted of 20 Districts and Local Associations. The Country Districts included:
-West Moreton (Ipswich) District
-Gladstone District
-Toowoomba District
-Townsville District
-Lower Burdekin District
-Bundaberg District
-Warwick District
-Cairns District
-Mackay District
-Herbert Rivier District
-Maryborough District
1944 Brisbane County reorganised into:
-Brisbane North County
-Brisbane South County
1944 – 1955 Brisbane North County and Brisbane South County reorganised into the following districts:
-Bayside District
-Brisbane South East District 
-East Brisbane District
-Griffith District
-John Oxley District
-Brisbane North District
-Kingsford Smith District
Within the Country areas, the following districts were established: 
-Warrego District
-Innisfail District
-Dalby District
-MacIntyre District
-Roma District
-South Coast District
-Lockyer District
-East Toowoomba District
-West Toowoomba District
-Pine Rivers District
-Murrumba District 
1946 Two County Headquarters established at Toowoomba:
-South County
-South West County
1957 Ipswich District was reorganised as Moreton County which contained three Districts:
-Flinders District
-Brisbane Valley District
-Limestone District
1961 - 1990
1964 Numbers were removed from the Scout Group name (i.e. 1st Oxley Scout Group became Oxley Scout Group). If two or more groups had the same name, then a historical name, or a word from an Aboriginal dialect was used instead.
1965 'Counties' have their names changed to 'Areas'. Each Area has as administrative office that was responsible for organising:
-Youth enrolment
-Processing Scouter Warrants (Appointments)
-Annual Census Returns
-Adult Leader Training
Mid – 1960s All 'Local Association' names changed to 'District Association'
1966 Darling Downs Area Office established in Toowoomba
1968 Coral Coast Area Officer established in Cairns. Group Name tapes colours change – red lettering on white changes to Gold lettering on Green
1969 Kennedy Area Office established in Townsville
1971 Name of the Association changed to Scout Association of Australia
1983 Country Regions, whose administrative functions were administrated by a Regional Clerk at Branch Headquarters was established:
-South Eastern Region (Country Districts North and South of Brisbane)
-Central and Coastal Region (Country Districts Maryborough to Mackay and the hinterland)
-Western Region (Codamine District, Kalkadoon District + 19 Groups in Southern & Western Queensland
Three Field Commissioners provided professional support to each region
1991 - 2020
2002 – 2004 All 'Areas' were renamed 'Regions' and the whole of Queensland Branch's scouting administrative functions were managed centrally at Queensland Branch Scouts Headquarters
2003 Group Name tapes Colours change: Gold lettering on Green changes to Gold lettering on Maroon in Queensland. As this occurred just the Scout Uniform changed from Khaki to Dark Blue
2012 Group Name tapes colours change: Gold lettering on Maroon changes to Gold lettering on Blue to be in line with National Policy 
References
Fones, R. (1992). In the light of all the years. Toowong, Australia: The Scout Association of Australia-Queensland Branch.
Australian Bureau of Statistics (2008). Year Book. ABS Cat No. 1301.1. Australian Bureau of Statistics, Canberra.