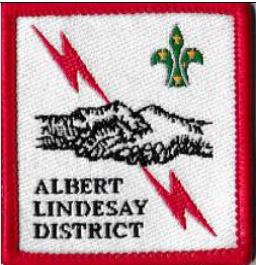 Albert Lindesay District (Ext)

Badge Description
Scout emblem
Hands shaking = Trustworthy between scouts (10th Scout law)
White = Purity "A Scout is clean in thought, word and deed"
Lightning appearing in the heavens = Reminder that there is a higher power
History
Albert Lindesay district involves the union of two communities (i.e., Mount Lindesay & Albert River shire) in the common goals of the Scout movement.  The district was established in 1985.  It closed in 1st April 2010 when the Gold Coast Region abolished all its districts, and moved towards a single Region organisation [1].
Groups
Albert Lindesay District Groups (2013): Greenbank Scout Group, Teviot Scout Group, Jimboomba Scout Group, Logan Village Scout Group, Eagleby Scout Group, Beaudesert Scout Group, and Beenleigh Scout Group [2].
References
Campbell, B. (2013). Bob's Blog, Gold Coast Region Newsletter. April, p. 1

Hall, J. Region Development and Support Officer. Personal communique 8.12.2016.