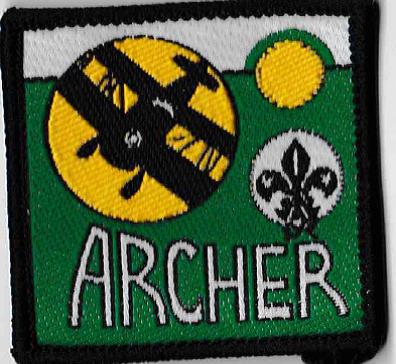 Badge Description
Scout logo
Aircraft = Aeroplane flying over Archerfield airfield which is within the district
The badge was first issued in 1979 [1]
The badge was designed by Jean Clifford, Deputy Chief Commissioner (Adults in Scouting) [4]
Previous Badge Variations
The following are variations of the badge:
​
Type: Woven bound, Black border

White Sun (1979)

Type: Woven bound, Black border

Orange Sun

52 x 52 mm

50 x 50 mm

Ext

Ext
History
Archer district named after the Archerfield homestead and pastoral station which was named and used to belong to a Michael Durrack, a tin miner from the Stanthorpe area in 1881. Archer district was originally formed in 1978, and is first mentioned in 1978 Brisbane South Area directory [1, 2]. In 1976, under the guidance of Ross Steele, a trained pilot and former Rover, the district formed an Air Activities committee.  In 1978, following training activities carried out by this committee the establishment of the Archerfield Air Activities centre commenced [3]. The district was closed in 2003 and reformed again in 2017.
The district has some interesting places which include: Market Square (Sunnybank) and Archerfield Airport (Archerfield).
Groups
Archer District Groups (1983): Acacia Ridge Scout Group, Algester Scout Group; Bountiful Scout Group, Browns Plains Scout Group; Coopers Plains Scout Group; Macgregor Scout Group, Salisbury Scout Group; Sunnybank Scout Group, Warrigal Scout Group  [5]
Archer District Groups (2018): Algester Scout Group; 1st Carinity Scout Group; Brisbane South Chinese Scout Group; Brisbane First Chinese Scout Group; Robertson Scout Group; Saint Mary Coptic Scout Group; Sunnybank Scout Group [6]
References
Haskard, D. (1983). The complete book of Australian Scout badges: Part 2, Queensland and Papua New Guinea. Chatswood, NSW: Badgophilist Publications.  p. 1.
The Scout Assoc of Australia, Queensland Branch (1978). Brisbane South Area Directory
Fones, R. (1992). In the light of all the years. Toowong, Australia: The Scout Association of Australia-Queensland Branch.. p.185
Clifford, J. Deputy Chief Commissioner (Adults in Scouting), Scouts Australia, Queensland branch. Personal communique: 18.4.2021
The Scout Association of Australia, Qld Branch. (1983). Directory: Areas, Regions, Districts, Groups 1983.
Scouts Australia, Queensland Branch (2018, March 7).  Formation listing 2018. Retrieved from https://scoutsqld.com.au/members/formation-listing/