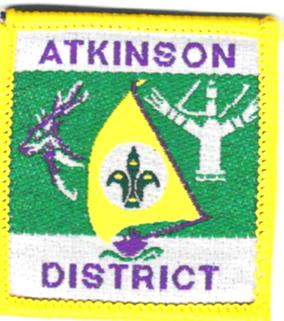 Badge Description
Scout emblem
Sailing Boat = water sports on Lake Atkinson
Deer head = lots of Red deer who are wild in the hills in the area.  The image of a deer was on the former "Brisbane Valley" district badge.
Sprinklers head = represents the Irrigation of local farm land and how much water and agriculture mean to the local area.  An image of a water sprinkler was on the on former "Lockyer" district badge.
The badge was first issued in 1974 [2]
Previous Badge Variations
The following are variations of the badge:
Type: Ribbon

First Issued 1974

Type: Woven bound, rectangular yellow border

Type: Woven bound, rectangular yellow border

Various shades

51 x 55 mm

50 x 58 mm

50 x 55 mm; 52 x 55 mm

Ext

Ext

Ext
History
Atkinson district is named after the Atkinson Dam and which was constructed in 1970.  The main purpose of the dam is for irrigation of farming land in the lower Lockyer Valley.  The lakes was named after Atkinson Lagoon, which was probably named after Edward Charles Atkinson JP, who was the lessee of the Beuraba Pastoral Run in 1847.
This large district has many attractions that include the Rosewood Railway (Bremer Valley), Grandchester Railway Station (Grandchester), Grandchester Model Steam Railway (Grandchester), Haigslea EWE Nique Hobby Farm (Haigslea), Wivenhoe dam, Esk Pie Shop, Jessie's Cottage (Murphy's Creek), Historical Village (Gatton), Queensland Transport Museum (Gatton), Apex Lake (Gatton), Lights on the Hill Memorial (Gatton), UQ Past Student's Association Museum (Gatton), Pioneer Village & Museum (Laidley), Das Neumann Haus (Laidley), HCVAQ Historic Truck & Machinery Show (Gatton), Chilli Festival (Murphys Creek), Spring Festival (Laidley), Chrome & Clutter Retro Festival (Laidley), Motorfest (Gatton), Post Office (Forest Hill), Butter Factory (Grantham), Mineral Water Spa (Helidon), Lake Wivenhoe (Ferndale), Railway (Lowood), Folk Art Cooperative (Lowood), Open Door Gallery (Lowood), Glen Rock Gallery (Esk), Nash Gallery (Esk), Fire Tower (Jimna), Old Church Gallery (Moore), Supper Room Art Gallery (Moore), Fishing (Somerset Dam), Alexandra Hall (Toogoolawah), and Somerset Regional Art Gallery-Condensery (Toogoolawah).
Atkinson district is an amalgamation of the former "Brisbane Valley" and "Lockyer" districts, and was formed in 1973 [1].
Groups
Atkinson District Groups (1973): Gatton Scout Group, Laidley Scout Group, Lowood Scout Group, Esk Scout Group and Toogoolawah Scout Group [1]
Atkinson District Groups (1983): Esk Scout Group, Gatton Scout Group, Laidley Scout Group, Glenore Grove Scout Group, Lowood Scout Group, Toogoolawah Scout Group [3]
Atkinson District Groups (2018): Esk Scout Group, Gatton Scout Group, Glenore Grove Scout Group, Lowood Scout Group [4]
References
Atkinson District History. Retrieved on 21.3.2018: http://atkinson.scoutsqld.com.au/history.htm

Haskard, D. (1983). The complete book of Australian Scout badges: Part 2, Queensland and Papua New Guinea. Chatswood, NSW: Badgophilist Publications.  p. 1.

The Scout Association of Australia, Qld Branch. (1983). Directory: Areas, Regions, Districts, Groups 1983.

Scouts Australia, Queensland Branch (2018, March 7).  Formation listing 2018. Retrieved from https://scoutsqld.com.au/members/formation-listing/