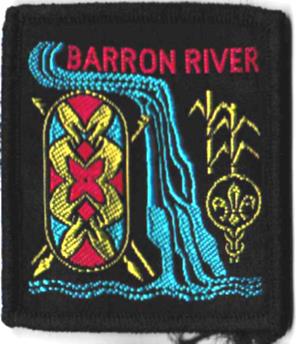 Barron River District (Ext)

History
Barron River district is named after Barron River, which is named after after a Brisbane chief clerk of police Thomas Barron.  Barron River district was formed in 1973 from a merger of Central Cairns district and Irukandji district [1, 2].  In 1980, Barron River district was part of the Coral Coast Area [3].  Barron River district and Endeavour Trinity Bay district closed, is last mentioned in the Branch area directories in 1982, to form Cairns district [4].
Groups
Barron Rivers District Groups (1973): Machan's Beach Scout Group, Martynvale Scout Group, 2nd Cairns Scout Group, 5th Cairns Scout Group, Edge Hill Scout Group, Freshwater Scout Group [2]
References
Haskard, D. (1983). The complete book of Australian Scout badges: Part 2, Queensland and Papua New Guinea. Chatswood, NSW: Badgophilist Publications. p. 5
Scouting in Queensland (1973). Warrant Changes/New Appointments/Groups Closed. Vol 12 (6), July, p. 29.
Scout (1980) Area & District Directory, September, p.8.
Scout (1982) Area & District Directory, December, p.48.