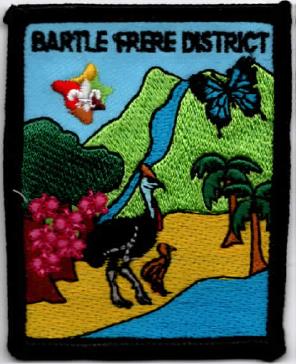 Badge Description
The badge depicts a scene that includes the flora, fauna and geographical features of the district which include tropical rainforests, mountains and the coastline.
Scout logo
Mountain = Mount Bartle Frere is the highest mountain in Queensland at an elevation of 1.611 metres, and is located within the Wooroonooran National Park
Waterfall = Josephine Falls, Wooroonooran National Park
Bird = Cassowary bird is local to the area and can be seen at Etty Bay Beach.  The district was also within the Cassowary Coast Region.
Sea = Coastline
Trees = Palm Trees by the beach
Pink Flowers = Cooktown Orchid, which is the State Flower of Queensland on a tree
The badge was designed by Kyle Jackson, Scout, Mission Beach Scout Group, and first issued in 2020. [4]
History
Bartle Frere District was originally formed on the 23.6.1969 when the previous district which was called Innisfail District closed [1].  Bartle Frere was de-registered on 9.8.2006 [2]. Bartle Frere district was re-formed in 2019 [3].  It covers the area between Gordonvale to Tully. In 2019, the District Commissioner was Michael Wilkinson [3]
Bartle Frere district is named after the highest mountain in Queensland Mount Bartle Frere, which is named after the 1873 President of the Royal Geographical Society, Sir Henry Bartle Frere.
Groups
Bartle Frere District Groups (2019): Goondi Scout Group, Gordonvale Scout Group, Mission Beach Scout Group [3]
References
Scouting in Queensland (1969). "Warrant Changes". Vol. 8 (6), July, p.20.
Scouts Australia, Queensland Branch. Electronic archive database retrieved 8 April 2018
Far North Queensland, Scouts Facebook posting 11:03 PM, 13th August 2019. Retrieved from: https://www.facebook.com/farnorthscouts/
Digweed, P. Region Commissioner, Far North Region. Personal communique: 20.6.2020