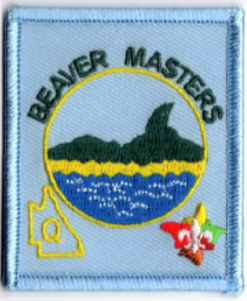 Badge Description
Scout logo
Green hills = Glasshouse Mountains, featuring Mt Coonowrin on the right (crooked neck), Mt Beerburrum,Mt Tunbubudla & Mt Tibberoowuccum combined on the left.[5]
Beach & Sea = Sunshine Coastline design in the circle was previously the emblem on the Near North Coast district badge
Map of Queensland 
The badge was first issued in July 1965 [4]
History
Beaver Masters district is named in honour of Louis Varsey "Beaver" Masters a local Scout Leader, who was appointed the first full time Country Training and Organising Commissioner (later known as Field Commissioner) in 1936.  He founded Sir Leslie Wilson Scout Camp, Florence Bay, Magnetic Island in 1956.  Beaver died on 15th May 1964, and his ashes rest under the alter at the camp chapel [1].  Beaver Masters district was formed in late 1964 or early 1965 [2].  The district used to be named "Near North Coast" district [2].
Prior to the Suncoast Region being formed, the district was part of the South East Queensland Zone, which was administered by Branch Headquarters in Brisbane, and districts were supported by Field Commissioners [3].  In 1972, the districts within this Zone included: Maryborough, Maheno, Gympie, Cooroora, Beaver Masters, Nambour, D'Agular Range, Murrumba, Bunya, Barambah, Condamine, Dolphin, South Coast, Stradbroke Island and Beaudesert districts.  In 1980 this district was re-designated part of Southern and Western Region [4].
Groups
Beaver Masters District Groups (1971): Buderim Scout Group, Caloundra Scout Group, Glasshouse Mountains Scout Group, Landsborough Scout Group, Maleny Scout Group, Maroochydore Scout Group [6]
Beaver Masters District Groups (1983): Buderim Scout Group, Caloundra Scout Group, Glasshouse Mountains Scout Group, Kawana Sout Group, Maleny Scout Group, Maroochydore Scout Group [7]
Beaver Masters District Groups (2018): Buderim Scout Group, Caloundra Scout Group, Kawana Scout Group, Landsborough Scout Group [8]

References
"Beaver" Master ashes: Qld Scouter B.4 (4), Aprile, 1965. Pp. 10.
Haskard, D. (1983). The complete book of Australian Scout badges: Part 2, Queensland and Papua New Guinea. Chatswood, NSW: Badgophilist Publications. p. 4
Scouting in Queensland (1972). "South-East QLD Zone Conference". Vol 11 (6), July, p. 5.
Scout (1980). "Coming Regional Events: Central and Coastal Region". Jan-Feb, p.47.
Cullen, R. District C ommissioner, Beaver Masters District, Personal communique 19.10.2016
The Boy Scouts Association, Queensland Branch (1971). Area, group and district directory 1971. Abel & Co.
The Scout Association of Australia, Qld Branch. (1983). Directory: Areas, Regions, Districts, Groups 1983.
Scouts Australia, Queensland Branch (2018, March 7). Formation listing 2018. Retrieved from https://scoutsqld.com.au/members/formation-listing/