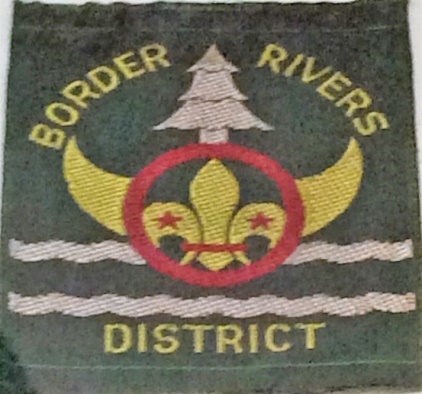 Border Rivers District (Ext)

Badge Description
Scout logo
Yellow horns: Cattle, much of the area is used for grazing given the erratic nature of the river systems in the area.
Pine tree : Forests in the area
White wavey lines = Rivers 
The badge was first issued in 1962 [4]
History
Border Rivers forms the border between NSW and Queensland.  On the Queensland side, the branches of the Murray Darling water system include the Severn river, Pike Creek, Macintyre Brook and the Weir river. 
Border Rivers District was formed in 1960/61 (i.e., mentioned in the Branch Annual Report 1962/63, but not mentioned on Branch Annual Report 1958/59) and the first District Commissioner was Rev S. Kattie [1, 2].  In 1964, the Scout Olympics were held at Inglewood, and was first conceptualised at a combined Border Rivers district camp at Goondiwindi earlier in the year.  Subsequently, the Scout Olympics was held within the Darling Downs Area at a different location each year, and lasted for 34 years until 1998 [3].  Border Rivers district closed in 1969/70 (i.e., not mentioned in 1971 Branch Directories, last mentioned 1967/68 Branch Directory), and Inglewood Group was reassigned to Beauaraba district, and Goondiwindi Group was administered by Branch HQ [4, 5, 6, 7].  The last District Commissioner was Fr F. C. Kattie.
Groups
Border Rivers District Groups (1963): Goondiwindi Scout Group, Inglewood Scout Group [2]
References
Australian Boy Scouts Association, Queensland Branch (1959). Annual Report 1958-1959.
Australian Boy Scouts Association, Queensland Branch (1963). Annual Report 1962-1963.
Madden, J. (2012). Scouting yarn of the Darling Downs: A history. Clifford Gardens, Queensland: The Scout Association of Australia, Queensland Branch Inc., Darling Downs Region. p. 106
Haskard, D. (1983). The complete book of Australian Scout badges: Part 2, Queensland and Papua New Guinea. Chatswood, NSW: Badgophilist Publications. p. 2.
Boy Scouts Association, Queensland Branch (1968). Annual Report 1967-1968.
The Boy Scouts Association, Queensland Branch (1971). "Area, group and district directory 1971". Abel & Co.
Scouting in Queensland (1969). "Warrant Changes". Vol 8 (8), Sept, p. 20.