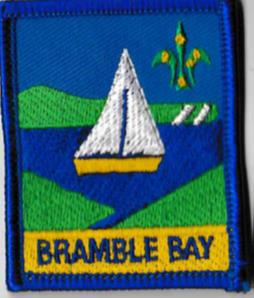 Badge Description
Scout logo
Green land above ship = Moreton Island
Blueline between lower green shapes = Pine River running into the Bramble bay
Two White lines on right of upper Green land = Sand Hills on Moreton Island where visitors go sand boarding
Boat = Sailing ship on the bay which is a popular recreational activity 
The badge is an amalgamation of two designs by scouts from Brisbane North Area [2].
Previous Badge Variations
The following are variations of the badge:
​
| | |
| --- | --- |
| | |
| Type: Woven bound | Type: Woven bound |
| 50 x 60 mm | 52 x 62 mm |
| Ext | Ext |
History
Bramble Bay district is named after a ship the HMS Bramble which was commandeered by Captain Charles Yule who carried out coastal survey work of Moreton Bay and Stradbrooke Island to chart a safe northern passage around 1846. 
The first scouting use of the name "Bramble Bay" emerged when "Bramble Bay Scout Group" was established at St. Patrick's College, Shorncliffe in 1964. The Group joined the Pine Rivers District which was in existence at the time [1].  Bramble Bay district was established in 1989, and was created out of a merger of parts of Dulandella district and Pine Rivers district.
Groups
Bramble Bay District Groups (2018): Aspley Scout Group, Bald Hills Scout Group, Boondall Scout Group, Bracken Ridge Scout Group, Sandgate Scout Group [3]
References
Scouting in Queensland (1971). "A Resume of Scouting in Pine Rivers District". Vol 10 (6), July, p.9.
Masters, L. former District Cub Scout Leader, Bramble Bay district. personal communication 13.11.2020
Scouts Australia, Queensland Branch (2018, March 7). Formation listing 2018. Retrieved from https://scoutsqld.com.au/members/formation-listing/