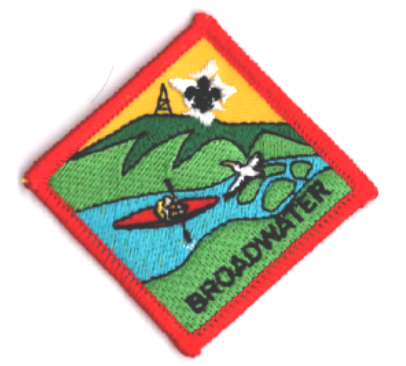 Badge Description
Mountain range & Antenna tower = Tamborine Mountain in the background with its recognisable transmission tower.
Water & Islands = Broadwater and western shore of South Stradbroke Island in the foreground.
Kayaker = outdoor activity and the opportunity for paddling and other water activities within the district.
Pelican = historical link to Pelican District which Groups in the district were once part of.
Badge designed by Stuart McConaghy, District Commissioner, Broadwater district and Steve Marshall, Region Commissioner, Gold Coast Region [4].
History
Broadwater district is named after the Gold Coast Broadwater which is a large shallow estuary [1]. Broadwater district was formed in 2019 [2].  The first District Commissioner was Stuart McConaghy [3]
Groups
Broadwater District Groups (2019): Coomera Scout Group, Helensvale Scout Group, Labrador Scout Group, Ormeau Scout Group, Paradise Point Scout Group, Tamborine Mountain Scout Group [2]
References
Broadwater Catchment, City of the Gold Coast Webpage. Retrieved 7th November 2019 from: https://www.goldcoast.qld.gov.au/environment/broadwater-catchment-3906.html
Gold Coast Region Scouts Webpage. Retrieved 7th November 2019 from: http://www.gcscouts.com.au/districts.html
District Commissioner (Broadwater), Chief's Newsletter (Scouts Queensland), Issue 45, November 2019
McConaghy, S. District Commissioner, Broadwater district. Personal communique 14.9.2021.