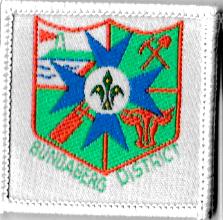 Badge Description
Scout logo
Lighthouse = Burnett Heads Lighthouse, Safe harbour, Fishing industry
Steer head = Beef & dairy industry
Shovel & pick = Mining industry
Plough = sugar cane & small crops
Maltese Cross = Queensland State Emblem
The badge was designed by a Rover scout named "John Martin" [1]. 
History
Bundaberg district is named after the town of Bundaberg.  The name Bundaberg is derived from Bunda "Important Man" in Kabi Kabi aboriginal dialect and Berg "town" in German [1].  There are many attractions that Bundaberg is famous for.  Amongst these is the Bert Hinkler Museum, a famous aviator, the Bundaberg Rum Distillery, Bundaberg Ginger Beer factory and lots of Sugar Cane and Macadamia Nut plantations.  There is also a Turtle conservation sanctuary.  Bundaberg is also the home of the Jabiru Aircraft which is assembled at Bundaberg Airport. 
The first troop to be established in Bundaberg was in 1910 [2].  By 1939, Bundaberg district had been established [3]. In 1943, its District Commissioner was F.G. Marshall [4].  The district was part of Central Queensland Zone in 1972, and later in 1980 part of Central and Coastal Region prior to the formation of the Wide Bay Burnett Region [5, 6].
Groups
Bundaberg District Groups (1960): 1st Bundaberg Scout Group, 2nd Bundaberg Scout Group, 3rd Bundaberg Scout Group, 4th Bundaberg Scout Group, Childers Scout Group, Gin Gin Scout Group [7]
Bundaberg District Groups (1971): Avenell Heights Scout Group, 1st Bundaberg Scout Group, 2nd Bundaberg Scout Group, 3rd Bundaberg Scout Group, 4th Bundaberg Scout Group, Childers Scout Group, East Bundaberg Scout Group, Gin Gin Scout Group, Millbank Scout Group, Norville Scout Group [8]
Bundaberg District Groups (1983): Avenell Heights Scout Group, Childers Scout Group, East Bundaberg Scout Group, Gin Gin Scout Group, Hinkler Scout Group, Kepnock Scout Group, Millbank Scout Group, North Bundaberg Scout Group, West Bundaberg Scout Group [9]
Bundaberg District Groups (2018): Childers Scout Group, Gin Gin Scout Group, Kepnock Scout Group, Millbank Scout Group, North Bundaberg Scout Group [10]
Bundaberg District Groups (2020): Childers Scout Group, Gin Gin Scout Group, Kepnock Scout Group, Millbank Scout Group, Moore Park Beach Scout Group, North Bundaberg Scout Group [11]
References
Haskard, D. (1983).  The complete book of Australian Scout badges: Part 2, Queensland and Papua New Guinea.  Chatswood, NSW: Badgophilist Publications. p.3.
Fones, R. (1992). In the light of all the years. Toowong, Australia: The Scout Association of Australia-Queensland Branch.. p. 3)
The Totem (1939). "Bundaberg District". Vol 2 (13), December p. 7.
The Totem (1943). "Appointments". Vol 5 (56), June p. 22.
Scouting in Queensland (1972). "Branch, Area, District Changes". Vol 11 (5), June, p.19.
Scout (1980). "Coming Regional Events – Central and Coastal Region" Jan-Feb, p.47.
Australian Boy Scouts Association, Queensland Branch (1960). Annual Report 1959-1960.
The Boy Scouts Association, Queensland Branch (1971). Area, group and district directory 1971. Abel & Co.
The Scout Association of Australia, Qld Branch. (1983). Directory: Areas, Regions, Districts, Groups 1983.
Scouts Australia, Queensland Branch (2018, March 7). Formation listing 2018. Retrieved from h

ttps://scoutsqld.com.au/members/formation-listing/

Scouts Australia, Queensland Branch (2020, November 7). Locate a Scout Group Near You. Retrieved from https://scoutsqld.com.au/join-scouts/