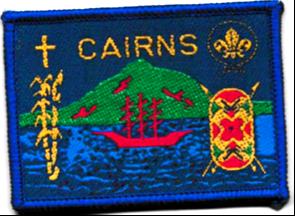 Badge Description
Scout Emblem
Shield = Irukandji people's tribal shield
Hill: Walshs Pyramid "Bundadjarrugal" (922m), Gordonvale
Cross = Trinity Bay
Sugar Cane = Sugar Cane production locally
Ship = HMS Endeavour

Previous Badge Variations
The following are variations of the badge: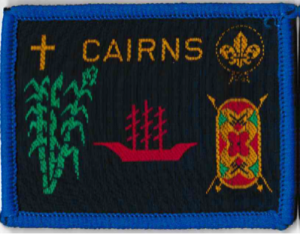 Type: woven bound
68 x 51 mm
Ext
History
Cairns was previously called "Trinity Bay" by Captain James Cook in 1770.  Cairns was founded in 1876 and named after William Wellington Cairns, Governor of Queensland from 1875-1877. 
The first troop to be established in Cairns was in 1910 [1].  On 28/8/1939, the very first Cairns and district local association received its charter, and the first DC was Mr E.O. Loney  of Cairns High School [2, 3].  In the 1960, there was a Central Cairns and also a City of Cairns district [4],  and later on a second Cairns district was formed in 1983 as a merger of Barron River district and Trinity Bay districts.  Cairns district is first mentioned in the 1983 Branch directory [5].  Cairns District probably closed in 1999, where its groups were absorbed into new districts such as Whitfield Range district and Mulgrave district.
Groups
Cairns District Groups (1983):  2nd Cairns Scout Group, 5th Cairns Scout Group, Coral Sea Scout Group, Edmonton Scout Group, Edge Hill Scout Group, Freshwater Scout Group, Gordonvale Scout Group, Kamerunga Scout Group, Kuranda Scout Group, Machans Beach Scout Group, St. Margarets Scout Group, Yorkeys Knob Scout Group [5].
References
Fones, R. (1992). In the light of all the years. Toowong, Australia: The Scout Association of Australia-Queensland Branch.. p. 3
The Totem (1957). "Cairns & District Scout in Retrospect". Vol 19 (225), Nov, p. 6.
The Totem (1938). "Appointments". Vol 2 (13), December p. 15.
Haskard, D. (1983). The complete book of Australian Scout badges: Part 2, Queensland and Papua New Guinea. Chatswood, NSW: Badgophilist Publications. p. 5.
The Scout Association of Australia, Qld Branch. (1983). Directory: Areas, Regions, Districts, Groups 1983.