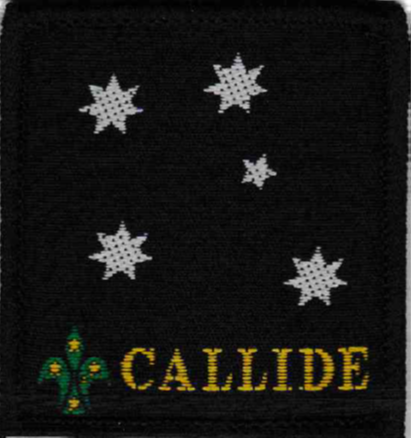 Badge Description
Scout logo
Black = lots of coal
White = Cotton agriculture
Green = local vegetable produce
Southern Cross = Australia
Angle of Southern Cross = This was the position of the Southern Cross during the night of BP's birth
Previous Badge Variations
The following are variations of the badge:
​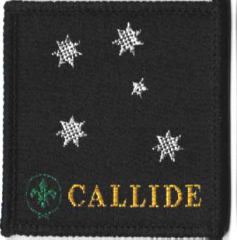 Type = Woven bound, black border
Badge issued 1994-1995
51 x 49 mm
Ext
History
The name "Callide" which is derived from "Kallos" meaning "beautiful" in Greek, was first used by Charles Archer in 1853 to describe his leases within the valley, which is within present day Banana Shire.  Charles first explored the Callide-Dawson Valley in 1850, and applied for leases in 1852. Charles Archer (1813-1862) was an explorer who explored much of central and south eastern Queensland.  Coal was discovered in the area in the 1890s, but not developed until 1942, when an open-cut mine was established on the site of Callide station.  Callide A Power Station was transformed into one of the world's first coal-fired low emission technology demonstrations – the Callide Oxyfuel Project. 
Where scouting was concerned, Callide district was established sometime around 1994-1995 [1].  The district closed 2nd December 2008. [2].  However historically, Biloela Scout Group was formed by Rev. J Rymerin 1952, and the Biloela Scout Hall was completed in 1954 [3].
Groups
Callide District Groups: Baralaba Scout Group, Biloela Scout Group, Monto Scout Group, Moura Scout Group, Theodore Scout Group, Wowan Scout Group
References
Lund, I. Scout, Biloela Scout Group, Callide District, 1992-1995. Personal communique 2.8.2021.
Scouts Australia, Queensland Branch. Electronic archive database retrieved 4th April 2018
Morning Bulletin 1952, p. 9