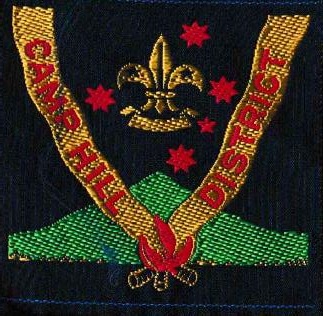 Badge Description
Scout Emblem = First Class Badge award [1]
Green Hill: Camp Hill,  travellers coming into Brisbane used to camp on this hill. [1]
Red Stars = Southern Cross (from Brisbane South Area badge) [1]
Campfire = Camp Hill with flames and smoke representing the rise of scouting
The badge was first issued in June 1961 [3]
Previous Badge Variations
The following are variations of the badge: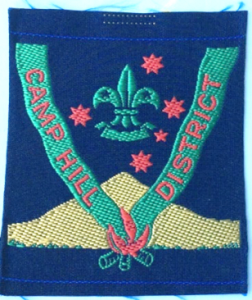 Type: Ribbon
Green logo and Banner
Ext
History
Camp Hill received its name as wagon trains travelling between Brisbane and Cleveland used to camp on this hill in the late 1800s. 
Camp Hill District was formed in 1960/61 (i.e., mentioned in the Branch Annual Report 1962/63, but not mentioned on Branch Annual Report 1958/59) and the first District Commissioner was W. H. Thomas [1, 2].  The district was closed in 1971 and absorbed into Eastern Hills District [3].  Badge was designed by a Senior Scout named K. Johnstone.
Groups
Camp Hill district Groups (1963): 1st Coorparoo Scout Group, Kennington Scout Group, Mt Bruce Scout Group, Seven Hills Scout Group [2]
References
Australian Boy Scouts Association, Queensland Branch (1959). Annual Report 1958-1959.
Australian Boy Scouts Association, Queensland Branch (1963). Annual Report 1962-1963.
Haskard, D. (1983). The complete book of Australian Scout badges: Part 2, Queensland and Papua New Guinea. Chatswood, NSW: Badgophilist Publications. p.5.