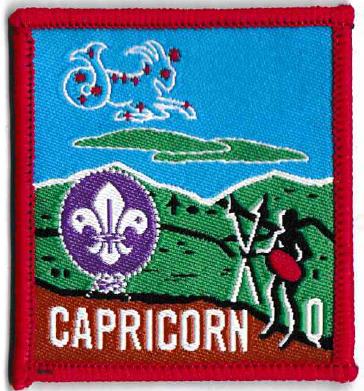 Badge Description
World Scout logo [3]
The badge is made up of a combination of the former Rockhampton district, which in turn was deririved from the former North Rockhampton and South Rockhampton badges.
Zodiac Sea Goat & Stars = Tropic of Capricorn passes through, and there is a monument in Rockhampton. Capricornus represents a creature that is a blend of fish and goat and the name means "goat horn" in Latin.
Green Colour : Mount Archer
Blue Colour : Sea with Keppel Islands in Green
Brown Colour : Fitzroy River
Figure : Local Darumbal (or Dharumbal) Aboriginal people which shows the strong relationship between Capricorn district to the surrounding country in Central Queensland
The view that is depicted in the badge is visible when a person stands in Gracemere and looks out towards Yeppoon.
The badge was issued in 2019 [3].
History
Capricorn district was formed on the 1st April 2018 [1], and was named after the surrounding Capricorn Coast in which the district resides, and the Tropic of Capricorn which passes through the district.  The Tropic of Capricorn is a line that represents the southernmost position of the sun on its annual journey.  There is a "Tropic of Capricorn Spire" visitor information centre in Rockhampton.  It was previously known as the Central Area within the Central Coast Region.  The first District Commissioner was Scott Neill [1]. Seeonee Park Campsite is in Capricorn District.
Groups
Groups (2018): Gracemere Scout Group, Mount Archer Scout Group, Warripari Scout Group, Yeppoon Scout Group [2]
References
Central Coast Region Newsletter (2018). Region Commissioner's Report. March Edition, p. 1.

Central Coast Region website. Accessed: 4.5.2018 from http://centralcoast.scoutsqld.com.au/
Neill, S. District Commissioner, Capricorn District. Personal communique, 24th July 2019.