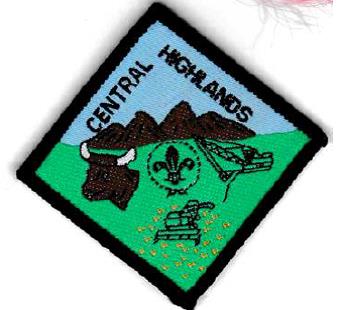 Central Highlands District (Ext)

Badge Description
Scout logo
Hills = The Peak Range National Park as seen from the lookout south just south of Capella
Beef = the cattle industry is the largest in the Central Highlands
Harvester = agriculture (i.e., cereal, pulses, cotton, citrus, table grapes, macademia, melon, lychees, figs, potatoes)
Mining excavator = mining.  It was the largest coal reserve and Queensland's most important export commodity.
History
Central Highlands district is named after the Central Highlands Regional Council.  In terms of scouting, it is not clear when the Central Highlands district was actually formed.  The district is mentioned in 1954, with the appointment of C.R.K. McDonald as District Commissioner (1).  The district does not appear to have lasted very long as by 1957, it is no longer mentioned [2].  By 1992,  Central Highlands district appears to have been re-formed as it was mentioned in the 1992 Branch Annual Report, as being part of Central and Coastal Region [3].  The district closed on the 18th June 2004 [4].
Groups
Central Highlands Groups (1992-2004): Blackwater Scout Group, Capella Scout Group, Dysart Scout Group, Emerald Scout Group, Middlemount Scout Group, Tieri Scout Group, Gemfields Scout Group [4]
References
The Totem (1954). "Appointments" Vol 16 (183), May p.19.
Australian Boy Scouts Association, Queensland Branch (1958). Annual Report 1957-1958.
The Scout Association of Australia, Qld Branch (1992). 84th Annual Report.
Scouts Australia, Queensland Branch. Electronic archive database retrieved 4 April 2018.