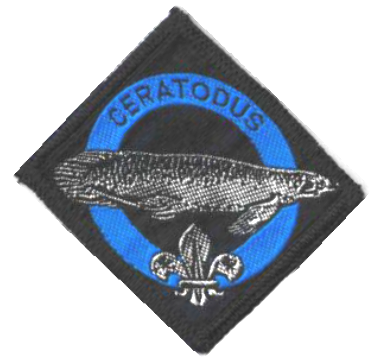 Badge Description
Scout logo
Fish = Ceratodus is an ancient Freshwater fish.  Fossil records of this class of fish date back 380 million years.  Fossils dating back 100 million years indicate that the fish has remained virtually unchanged making it a living fossil and one of the oldest living vertebrate genera on the planet.  Its closest relatives are knonw as the Australian Lung Fish, Burnett Salmon, Barramundi, and Queensland Lung Fish (Neoceratodus forsteri) which is native only to the Mary and Burnett River system.  It has been successfully introduced to other river systems across the state. 
The badge was designed by Lloyd Piper, and first issued in 1970 [1].
Previous Badge Variations
The following are variations of the badge:
Type: Woven bound,

Black border

Type: Woven bound,

Blue border

53 x 56 mm

53 x 53 mm

Ext
Ext
History
Ceratodus district is named after the town of Ceratodus which is on the Burnett river, 8.8 km from Eidsvold.  Lloyd Piper designed the badge which was to feature a lung fish or 'Ceratodus' [1].  The district has a history of being closed twice.  The first time in 22nd November 1977, and the second time in 2006 [2, 3].  The district, was originally supposed to be called "Lower Burnett district" and was part of Central Queensland Zone in 1972 [1, 4].  The district was formed sometime around 1970.
Groups
Ceratodus District Groups (1971): Biggenden Scout Group, Gayndah Scout Group, Mundubbera Scout Group, Mt. Perry Scout Group. [5]
Ceratodus District Groups (2006): Biggenden Scout Group, Mundubberra Scout Group, Monto Scout Group [3]
References
Haskard, D. (1983). The complete book of Australian Scout badges: Part 2, Queensland and Papua New Guinea. Chatswood, NSW: Badgophilist Publications. p. 9.
Williams, N. (official letter 3 Feb 1978). Letter to F. N. Sedgwick, "Closure of Ceratodus district". Chief Executive Officer, The Scout Association of Australia, Queensland Branch.
Scouts Australia, Queensland Branch (2006). Annual Report, Resources. p. 23.
Scouting in Queensland (1972). "Capricorn Coast Zone Conference Report". Vol 11 (6), July, p. 4.
The Boy Scouts Association, Queensland Branch (1971). Area, group and district directory 1971. Abel & Co.