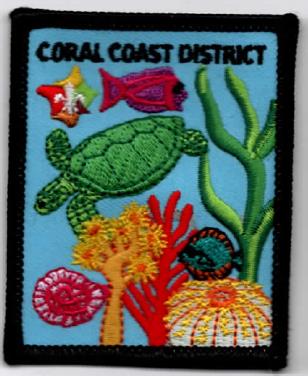 Badge Description
The scene depicts corals, fishes and reptiles (i.e., turtles) which are found in the waters of the Great Barrier Reef.
Scout logo
Coral = Coral reefs are formed by little animals called coral polyps (i.e., a bit like an upside down jelly fish), that secrete calcium which forms the limestone skeleton on which they live.  This skeleton is essentially the foundation of the coral reef.  There are about 600 different types of hard and soft coral within the Great Barrier reef.  Common types of hard corals, which are the building blocks of the reef, include the brain coral and staghorn coral.  Soft corals, as compared with hard coral, tend to be more colourful, and are flexible and look like plants.  
Turtle = Turtles are dubbed the "ancient mariners of the sea".  Within the Great Barrier Reef, there are 6 species of turtle know as the Green Turtle, Loggerhead Turtle, Hawksbill Turtle, Flatback Turtle, Olive Ridley Turtle, and the Leatherback Turtle.  Leatherbacks are the largest living species of turtle on Earth.
Fish = It is estimated that there are between 1200-2000 species of fish within the Great Barrier Reef.  The reef fish are very colourful, and common types of fish include the Anemone (i.e., Nemo), Surgeon, Parrot, Butterfly, Damsel, Coral Trout, Groupers and Cods, Maori Wrasse and Sharks.
The badge was designed by Aria Gower (Cub Scout) and Amity Gower (Joey Scout), Edmonton Scout Group, and first issued in 2020 [5].
History
Coral Coast district was formed in 2019 [1].  It covers the area between Edmonton to the Northern Beaches. The first District Commissioner was Belinda Wheatland [1].  Coral Coast district has a similar name to the former Coral Coast Area, which was formed on the 10th January 1968 in Cairns [2. 3. 4].
The Coral Coast is the area along the Coral Sea, within which is the Great Barrier Reef.  The Great Barrier Reef is the world's largest coral reef system composed of over 2,900 individual reefs and 900 islands stretching for over 2,300 kilometres (1,400 mi) over an area of approximately 344,400 square kilometres (133,000 sq mi).
Groups
Coral Coast District Groups (2019): Bayview Scout Group, Edge Hill Scout Group, Edmonton Scout Group, Freshwater Scout Group, Northern Beaches Scout Group [1]
References
Far North Queensland, Scouts Facebook posting 11:03 PM, 13th August 2019. Retrieved from: https://www.facebook.com/farnorthscouts/

Fones, R. (1992). In the light of all the years. Toowong, Australia: The Scout Association of Australia-Queensland Branch. p. 132

Scouting in Queensland (1968). "District and Area Changes". Vol. 7 (1), February, p. 31.

Boy Scouts Association, Queensland Branch (1968). Annual Report 1967-1968.

Digweed, p. Region Commissioner, Far North Region. Personal communique: 20.6.2020