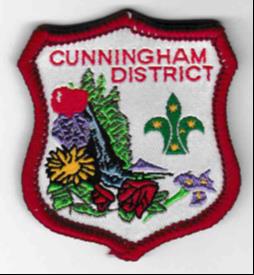 Previous Badge Variations
The following are variations of the badge:
Type: Embroided

Type: Embroided

Type: Embroided

73 x 80 mm

64 x 72 mm; 58 x 70 mm

35 x 42 mm

40 x35 mm
Ext
Ext
Ext
History
Cunningham district is named after Allan Cunningham, an explorer who set out in 1827 to explore west of the Great Dividing Range, and having discovered the Darling Downs, returned in 1828 from Brisbane to discover Cunningham's Gap. 
Within the district are various historical sites and artifacts.  The rosewood leathertop table around which sat the Executive Council, who formed the Queensland Government in 1859, resides at Heritage Estate Winery, Cottonvale.  In addition to this is a huge Granite Block Pyramid in a paddock at Ballandean. The cool dry air around Stanthorpe was seen as beneficial for patients suffering from respiratory conditions, and following the 1st World War, soldiers suffering the effects of Mustard gas were resettled in the area, hence the names of many 1st World War battle sites in around Stanthorpe.  The district is well known for agricultural produce which includes grapes, wineries, apples and the Black Angus cattle.  Warwick is also known as the "Rose and Rodeo City".
Cunningham District was formed in 1969 [1].  Its first District Commissioner was Ron Blomeley, who was previously the first Area Commissioner of the Darling Down's Area in 1966 [2].  However, scouting had been around much earlier with the first troop established in Killarney in 1910 [3].  Before Cunningham district was created, there were other districts in the area, and by 1943, Warwick district had been established [4].
Groups
Cunningham District Groups (1969): Warwick Scout Group, Allora Scout Group and Clifton Scout Group (later added Killarney Scout Group, Stanthorpe Scout Group). [4]
Cunningham District Groups (1971): Clifton Scout Group, Glennie Heights Scout Group, 1st and 2nd United Warwick Scout Group , 6th Warwick Scout Group , 8th Warwick Scout Group [6]
Cunningham District Groups (2018): Clifton Scout Group, Glennie Heights Scout Group, Killarney Scout Group, Stanthorpe Scout Group [7]
References
Madden, J. (2012). Scouting yarn of the Darling Downs: A history. Clifford Gardens, Queensland: The Scout Association of Australia, Queensland Branch Inc., Darling Downs Region. p. 112
Madden, J. (2012). Scouting yarn of the Darling Downs: A history. Clifford Gardens, Queensland: The Scout Association of Australia, Queensland Branch Inc., Darling Downs Region. p. 109
Fones, R. (1992). In the light of all the years. Toowong, Australia: The Scout Association of Australia-Queensland Branch.. p. 79, 80
Madden, J. (2012). Scouting yarn of the Darling Downs: A history. Clifford Gardens, Queensland: The Scout Association of Australia, Queensland Branch Inc., Darling Downs Region. p. 112
Thompson, E. District Commissioner, Cunningham District. Personal communique 13.2.2021.
The Boy Scouts Association, Queensland Branch (1971). Area, group and district directory 1971. Abel & Co.
Scouts Australia, Queensland Branch (2018, March 7). Formation listing 2018. Retrieved from https://scoutsqld.com.au/members/formation-listing/