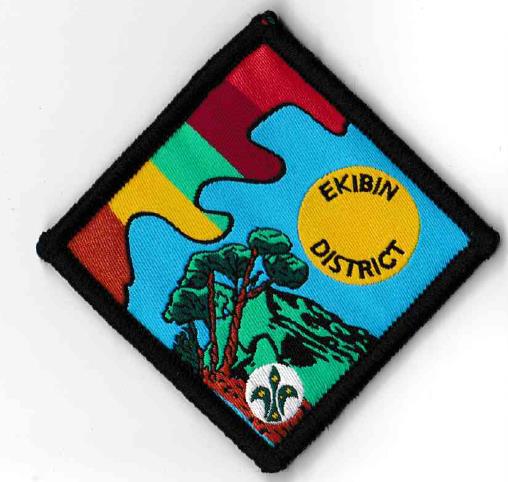 Badge Description
Scout Emblem
Multiple colours = Colours represent each section in scouting (i.e., Tan Joeys, Yellow Cubs, Green Scouts, Marron Venturers, Red Rovers) [1]
Wavy black line = Shape of the Brisbane river which is the district border and on the other side of Kuripla Scout Group.
Tree and Hill represents Toohey Mountain,and Toohey Forest Reserve.  All the groups in the district are located close to this location. [1]
Bird in Tree Branches = Raven, which is the scout name of Warren Hope, District Commissoner, who was instrumental in the renaming of the district and designing the badge [1]
Yellow Sun = standard design on most Brisbane South Region district badges and is reminiscent of the same design of the sun in the Toohey Forest district badge as Tarragindi and Clifton Hill Scout Groups were moved from Toohey Forest District into the newly formed Ekibin district in September 2018. [1[
The badge was designed in September 2018 by Sharon Rozynski (GL), Wendy Windley (GL), Simon Maffey (GL), Julie Segal (GL), John McIntyre (GL) and Warren Hope (DC).  [1]
History
Ekibin district was formed in 2018 as a merger of parts of the former Toohey Forest and Tarcoola districts.  Ekibin is named after the suburb of Ekibin, in Brisbane, which is named after Ekibin Creek.  Ekibin is derived from the aboriginal word "Yekkabin" which referred to edible aquatic roots (Blechnum indicum) which grew in the creek.  The roots were part of the diet of the aboriginals in the Moreton Bay Area.  The first District Commissioner in 2018 was Warren Hope.
Groups
Ekibin District Groups (2018): Salisbury Scout Group; Clifton Hill Scout Group; Kurilpa Scout Group; Tarragindi Scout Group; Nursery Road Scout Group [2]
References
Hope, W. (2018). District Commissioner, Ekibin District and Toohey Forest District. Personal communique 20.12.2018]

Scouts Australia, Queensland Branch (2018, December 17). Formation listing 2018. Retrieved from https://scoutsqld.com.au/members/formation-listing/