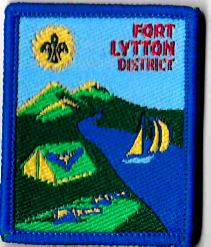 Badge Description
Scout logo in yellow sun
Hills and Tent = Camp Hill, wagon trains travelling between Brisbane and Cleveland used to camp on this hill in the late 1800s.
Dove on tent = from the former Coorparoo district badge.  Corparoo is the Aboriginal word for White Dove
Cannon = Cannon at Fort Lytton
Boat = Sailing on Moreton Bay
Previous Badge Variations
The following are variations of the badge: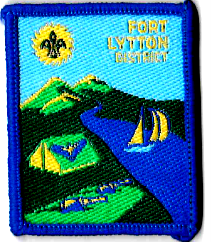 Type woven bound
42 x 50 mm
Ext
History
Fort Lytton district is named after Fort Lytton, a defence facility by the Brisbane River which is within the district.  The fortification was in use between the colonial era till WWII.  During WWII the fort defended the Brisbane submarine base.  Fort Lytton District was established in 2012, and made up of groups from Moreton Bay district and Chatsworth District [1].
Groups
Fort Lytton District Group (2012): Bayside Sea Scout Scout Group, Belmont Scout Group, Gumdale Scout Group, Hemmant Scout Group, Manly-Lota Scout Group, Morningside Scout Group, Mount Bruce Scout Group, Wynnum Scout Group [1]
Fort Lytton District Group (2018): Bayside Sea Scout Scout Group, Belmont Scout Group, Gumdale Scout Group, Hemmant Scout Group, Manly-Lota Scout Group, Morningside Scout Group, Mount Bruce Scout Group, Wynnum Scout Group [2]