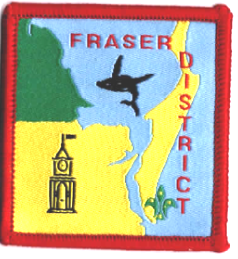 Badge Description
Scouts emblem
Island and Coastal area = Fraser Island and coastal area
Yellow area = Fraser district boundaries
Whale = annual visit of the  Humpback whales to Hervey Bay in mid-July to early November. This is part of the whale migration route.
Town Hall = Clock Tower at Maryborough which is an iconic building
As tourism is a major industry within this district, icons representing the two biggest cities Maryborough (Clock Tower) and Hervey Bay (Whale) are depicted.
Badge was designed sometime around 2019 [1]
Previous Badge Variations
The following are variations of the badge: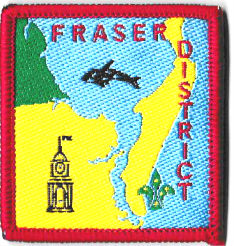 Type: Woven bound
(issued around 2019)
47 x 50 mm
Ext
History
Fraser district is named after Fraser Island.  For a short period the island was known as Great Sandy Island. The island became known as Fraser due to the stories of a shipwreck Scottish survivor named Eliza Anne Fraser.  The ship, the Stirling Castle; was shipwrecked off the coast of Queensland, Australia, on 22 May 1836, and Eliza claimed to be captured by Aboriginal people when in fact she was ship wrecked on the island and taken in by the Badtjala(Butchella) people.  Her husband Captain James Fraser, master of the Stirling Castle, either died from starvation or from his injuries.   In 1976 a drama film titled "Eliza Fraser" was made about her and was the first Australian film with a seven figure budget, costing $1.2 million to make.  Fraser Island was inscribed as a World Heritage site in 1992. The island is considered to be the largest sand island in the world at 1,840 km. It is also Queensland's largest island.  The district was established in 1st April 1981 when Maryborough and Maheno district combined and closed to form Fraser district [1, 2].  The first District Commissioner of Fraser District was Tom Macnamara who served as DC for 16 years [1].
Groups
Fraser District Groups (1983): Baddow Scout Group, Fairfield Heights Scout Group, Granville Scout Group, Hervey Bay Scout Group, 4th Maryborough Scout Group, Maryborough West Scout Group, Moonaboola Scout Group, Pialba Scout Group, Urangan Scout Group. [3]
Fraser District Groups (2018): Baddow Scout Group, Bauple Scout Group, Gayndah Scout Group, Hervey Bay Sea Scout Group, Maryborough West Scout Group, Moonaboola Sea Scout Group, Pialba Scout Group [4]
Fraser District Groups (2020): Baddow Scout Group, Bauple Scout Group, Craignish Scout Group, Gayndah Scout Group, Hervey Bay Sea Scout Group, Maryborough West Scout Group, Moonaboola Sea Scout Group, Pialba Scout Group [5]
References
Ashford, K. (2021). District Commissioner, Fraser District in 2021, and District Cub Leader, Maryborough District in 1981. Personal communique. 20th April 2021.
Scout (1981). Changes to area and district directory as appeared in September 1980 Scout. July, p. 6.
The Scout Association of Australia, Qld Branch. (1983). Directory: Areas, Regions, Districts, Groups 1983.
Scouts Australia, Queensland Branch (2018, March 7). Formation listing 2018. Retrieved from https://scoutsqld.com.au/members/formation-listing/
Scouts Australia, Queensland Branch (2020, November 7). Locate a Scout Group Near You. Retrieved from https://scoutsqld.com.au/join-scouts/