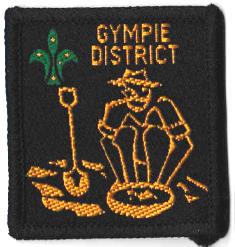 Badge Description
Scout logo
Figure : Gold miner, probably John Nash, panning for gold.
The badge was first designed and issued in 1963, and the image of the Gold miner was adapted from the Gympie coat of arms, to coincide with the Gold Rush theme prior to the City's first Gold Rush festival [7]
Previous Badge Variations
The following are variations of the badge:
Type: Ribbon

(issued 1963)

Type: Ribbon

Type: Woven bound,

(issued 1982)

Various shade of gold

Thickness of image lines varies

52 x 52 mm
54 x 48 mm
50 x 58 mm; 52 x 58 mm
Ext  [1]
Ext
Ext
History
Gympie district is named after the town of Gympie within the Wide Bay-Burnett Region.  Gympie is derived from the Kabi Kabi Aboriginal word "gimpi-gimpi" which means stinging tree [1].  The tree has large, round leaves that have similar properties to stinging nettles. The town was previously named Nashville, after James Nash, who discovered gold in the area in 1867.  The name was later changed to Gympie in 1868.   At the time of Nash's discovery, Queensland was suffering from a severe economic depression. The gold probably saved Queensland from bankruptcy.  By 1927, the gold had run out and diary farming and agriculture are the primary local industries [2]. 
The term "Gympie District Scout Association" was first mentioned in 1935.  Prior to this, it was known by a number of names such as "The Gynpie Boy Scouts (Divisional) Association" and the "Gympie Scout's Council" whose roots can be traced back to 1910.  On 8th August 1912, John Squire Aspinall (1st Gympie Scout Troop) was appointed the first District Commissioner [3].  Prior to this in 1911, the 1st Gympie Troop was awarded the "King's Flag" or "Challenge Banner", and were entitled to be called "King's Own".  This was for having at least 24 scouts by 30th September who had achieved the King's Scout Award [4].
Prior to the Suncoast Region being formed, the district was part of the South East Queensland Zone, which was administered by Branch Headquarters in Brisbane, and districts were supported by Field Commissioners [5].  In 1972, the districts within this Zone included: Maryborough, Maheno, Gympie, Cooroora, Beaver Masters, Nambour, D'Agular Range, Murrumba, Bunya, Barambah, Condamine, Dolphin, South Coast, Stradbroke Island and Beaudesert districts.  Gympie district was re-located to being part of Central and Coastal Region in 1982 [6].  In 1991, Gympie district was organised as part of the Sun Coast Region, when the region was formed.
Groups
Gympie District Groups (1920s-1950s):  1st Gympie Scout Group, 2nd Gympie Scout Group, 3rd Gympie Scout Group (later Queen's Park Scout Group), Eumundi Scout Troop, Gympie Salvation Army Patrol, 4th Gympie Scout Group (formerly: St Patrick's Roman Catholic Boy Scout Group & St Patrick's (Gympie) Scout Group), 1st Nashville Scout Group (formerly One Mile Scout Group) [8]
Gympie District Groups (1962): Nashville Scout Group, Queen's Park Scout Group, St. Patrick's Scout Group. [9]
Gympie District Groups (1971): Centenary Scout Group, Nashville Scout Group, Queen's Park Scout Group, St. Patrick's Theebine Scout Group. [10]
Gympie District Groups (1983): Centenary Scout Group, Cooloola Coast Scout Group, Cooroy Scout Group, Imbil Mary Valley Scout Group, Nashville Scout Group, Pomona Scout Group, Queens Park Scout Group, Theebine Scout Group [11]
Gympie District Groups (2018): Centenary-Gympie Scout Group, Imbil Mary Valley Scout Group, Nashville Scout Group [12]
References
Gympie (Kabi Kabi) – from 'Gimpi' which means 'stinging tree'. (30/10/2018) Retrieved from: http://www.slq.qld.gov.au/resources/atsi/languages/queensland/southeast-queensland-placenames

Haskard, D. (1983). The complete book of Australian Scout badges: Part 2, Queensland and Papua New Guinea.  Chatswood, NSW: Badgophilist Publications. p. 12.

Green, B.J. (2010). A history of Gympie regional scouting 1908-2009. p. 207-208.

Fones, R. (1992). In the light of all the years. Toowong, Australia: The Scout Association of Australia-Queensland Branch. p. 9.

Scouting in Queensland (1972). "South-East QLD Zone Conference". Vol 11 (6), July, p. 5.

Scout (1982) Area & District Directory, December, p.48.

Green, B.J., 2010. A history of Gympie regional scouting 1908-2009. p. 49.

Green, B.J., (2010). A history of Gympie regional scouting 1908-2009.p. 177-180.

Australian Boy Scouts Association, Queensland Branch (1962). Annual Report 1961-1962.

The Boy Scouts Association, Queensland Branch (1971). Area, group and district directory 1971. Abel & Co.

The Scout Association of Australia, Qld Branch. (1983). Directory: Areas, Regions, Districts, Groups 1983.

Scouts Australia, Queensland Branch (2018, March 7). Formation listing 2018. Retrieved from https://scoutsqld.com.au/members/formation-listing/