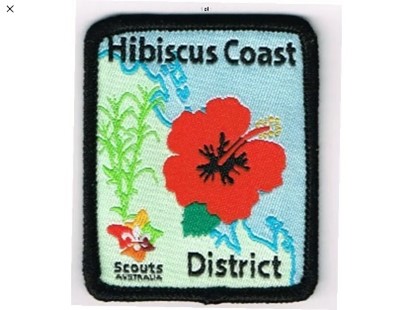 Badge Description
Scout Emblem
Flower: Hibiscus – floral emblem of Mackay and appears on the Regional Council Coat of Arms.  Also reflects the heritage of the district whose geographical area encompassed the former Mackay district, whose district badge emblem was the Hibiscus flower.
Green Plant: Sugar cane, given that Mackay is known as the "sugar capital" of Australia
Geographical Map: Queensand coastline stretching from Rockhampton in the South to Bowen in the North.
The badge was designed by Joann Brzozowski (Venturer Leader, Banksia Scout Group), and electronically rendered by Will McVeigh (Venturer, Banskia Scout Group) and his mother Claire McVeigh [3, 4].
Previous Badge Variations
The following are variations of the badge:
​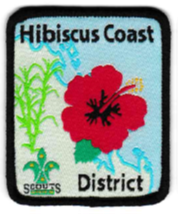 Type = Woven bound
(issued 2019)
43 x 50 mm
Ext
History
Hibiscus Coast district was formed in 2018, as a result of districts being created within the Central Coast Region [1].  The District Commissioner in 2018 was Katrina Hoare [2].  The district is home to Rowallan Park campsite [2], and is named after the Hibiscus Coast, Mackay Region, which is a 93 km stretch of coastline.
Groups
Hibiscus Coast Districts Groups (2018):  Banksia Scout Group, Bowen Scout Group, Mackay City Central Scout Group, Pioneer Valley Scout Group, Sarina Scout Group [2]
Hibiscus Coast Districts Groups (2021):  Banksia Scout Group, Bowen Scout Group, Mackay City Central Scout Group, Pioneer Valley Scout Group, Proserpine Scout Group, Sarina Scout Group [5]
References
Central Coast Region Newsletter (2018). Region Commissioner's Report. March Edition, p. 1.
Central Coast Region Organisational chart. Accessed on 6 June 2018 at http://centralcoast.scoutsqld.com.au

J

oanne Hamilton, Scout Leader, Banksia Scout Group, and Katrina Hoare, District Commissioner, Hibiscus Coast, Personal comminique 21.5.2019
Joann Brzozowski, Venturer Leader, Banksia Scout Group, Hibiscus Coast district, Personal communique 30.5.2021
Hibiscus Coast District Webpage (2021). Accessed on 29.5.2021 at https://www.hcd.ccrscoutsqld.com.au/