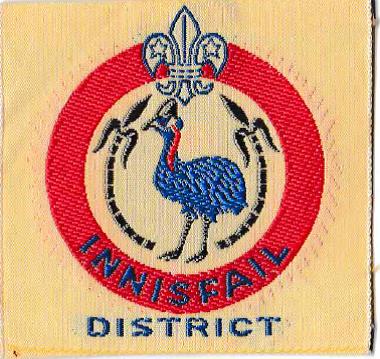 Badge Description
Scout logo
Sugar Cane = local agriculture
Bird = Cassowary bird local to the area and also the jungles of Papua New Guinea. The district was also within the Cassowary Coast Region.
The badge was first issued in November 1962  [2]
History
Innisfail district is named after Innisfail a town and locality in the Cassowary Coast Region in Far North Queensland, Australia.  The town was originally called Geraldton until 1911, and changed to Innisfail to avoid confusion with Geraldton (Western Australia). In 1879, Irishman Thomas Henry Fitzgerald arrived in the area to establish a sugar industry. The house built by Fitzgerald and thus the first establishment in the area was called Innisfallen, after the largest island in the Lakes of Killarney, Ireland. Inis Fáil (Island of Destiny) is an ancient Irish name for Ireland itself.  It is the major township of the Cassowary Coast Region and is well renowned for its sugar and banana industries, as well as for being one of Australia's wettest towns. 
Innisfail district was established sometime around 1943, and at the time, its District Commissioner was S.K. Page [1].  The district closed down in 1969 and became Bartle Frere district [2].  In 1968, the District Commissioner was A. L. Thomsen [3].
Groups
Innisfail Groups (1968) : Babinda Scout Group, Goondi Scout Group, Innisfail Scout Group, South Johnstone Scout Group, Tully Scout Group [3]
References
The Totem (1943). "Appointments". Vol 5 (52), March p. 22.
Scouting in Queensland (1969). "Warrant Changes". Vol. 8 (6), July, p.20.
Boy Scouts Association, Queensland Branch (1968). Annual Report 1967-1968.