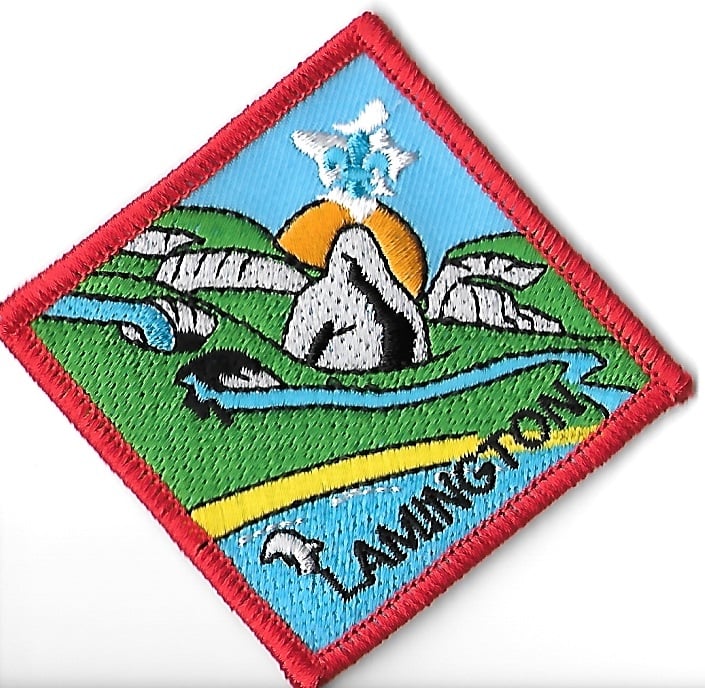 Badge Description
Scout logo
Lamington and Beechmont Plateaus form the background
Egg Rock in the centre. Egg Rock is a volcanic plug in Numinbah Valley
On the left is Natural Bridge which is situated near the NSW border on the southern end of the District
Cave creek flows through Natural Bridge and eventually joins the Nerang River which meets the ocean at the northern end of the District. It flows across the District just as it does the badge.
The lower part of the badge depicts the beaches defining the eastern part of the District
The Dolphin is a link back to the history of the majority of the area which formed Dolphin District.
Badge first issued November 2020.
History
Lamington district is named after Lamington National Park. The park is named after Queensland Governor Charles Cochrane-Baillie Lamington [1].  Lamington National Park includes a series of densely forested valleys and ranges rising to more than 1100m on the crest of the McPherson Range, which marks the New South Wales–Queensland border. The park lies on the southern edge of the Scenic Rim, a chain of mountains stretching from the Gold Coast hinterland to Mount Mistake [2].   Lamington district was formed in 2019 [2].  The first District Commissioner was Deborah Phillips [3]
Groups
Lamington District Groups (2019): Ashmore Scout Group, Burleigh Heads Scout Group, Mudgeeraba Scout Group, Nerang Scout Group, Palm Beach Scout Group, Parkwood Heights Scout Group [1]
References
Nature, culture and history. Lamington National Park, Department of Environment and Science, Queensland Government. Retrived 7th November 2019 from https://parks.des.qld.gov.au/parks/lamington/culture.html
Gold Coast Region Scouts Webpage. Retrieved 7th November 2019 from: http://www.gcscouts.com.au/districts.html

District Commissioner (Lamington), Chief's Newsletter (Scouts Queensland), Issue 93, November 2020