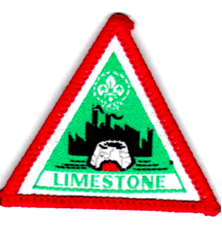 Badge Description
Scout logo
Buildings and Chimney stack = Industries in the Ipswich area
Kiln/Oast = Conical Limestone kiln for processing the limestone.  Lime is calcium carbonate. To produce Lime for use in mortar, the Lime has to be heated, producing calcium oxide or quicklime. The kilns or "Oast" was loaded with layers of limestone pieces and fuel which would have been wood in the early days.  The limestone was burned as the quicklime was formed, it dropped through the grating and was removed  through a side tunnel. More limestone and fuel could then be added at the top.  Allan Cunningham said 300-400 baskets of lime were produced at Ipswich in 1828 and sent to Brisbane town each week.
The badge was first designed and issued in March 1961 [1]
Previous Badge Variations
The following are variations of the badge:
Type: Ribbon

 (issued 1961)

Type: Woven bound

Thin red border

50 x 40 mm

48 x 53 mm

Ext  [1]

Ext
History
Limestone district is named after the limestone that was originally discovered in the Bremer River by Captain Patrick Logan in 1827.  Convicts quarried limestone in an area outside Ipswich called "Limestone Hill".  Lime was essential for the mortar used in building new houses in the new Brisbane settlement.  Ipswich was previously called "Limestone" due to the number of limestone kilns that were built in the locality to process limestone [1].  The first troop to be established in Ipswich was in 1910. [2]
In 1957, Ipswich District was re-organised as Moreton County (which subsequently became Moreton Area in 1965 [3]) which initially contained 3 districts (i.e., Flinders, Brisbane Valley and Limestone districts [4].  Limestone district was thus established on the 17th October 1957, and its first District Commissioner was K.J. Whitehead [5, 6].
Groups
Limestone District Groups (1959): 2nd Ipswich Scout Group, 5th Ipswich Scout Group, 8th Ipswich Scout Group, 1st Silkstone Scout Group, Bundamba Scout Group, Dinmore-Riverview Scout Group [7]
Limestone District Groups (1965):  Booval Scout Group, Bundamba Scout Group, Dinmore-Riverview Scout Group, 2nd Ipswich Scout Group, East Ipswich Scout Group, Raceview Scout Group, Silkstone Scout Group [8]
Limestone District Groups (1971): Booval Scout Group, Dinmore-Riverview Scout Group, East Ipswich Scout Group, Goodna Scout Group, Queen's Park Scout Group, Raceview Scout Group, Silkstone Scout Group [9]
Limestone District Groups (1983): Booval Scout Group, Camira Scout Group, Dinmore-Riverview Scout Group, East Ipswich Scout Group, Goodna Scout Group, Queen's Park Scout Group, Raceview Scout Group, Redbank Plains Scout Group, Silkstone Scout Group [10]
Limestone District Groups (2018): Queens Park Ipswich Scout Group, Raceview Scout Group, Silkstone Scout Group [11]
References
Haskard, D. (1983). The complete book of Australian Scout badges: Part 2, Queensland and Papua New Guinea.  Chatswood, NSW: Badgophilist Publications. p. 15.
Fones, R. (1992). In the light of all the years. Toowong, Australia: The Scout Association of Australia-Queensland Branch.. p. 3.
Fones, R. (1992). In the light of all the years. Toowong, Australia: The Scout Association of Australia-Queensland Branch.. p.132
Fones, R. (1992). In the light of all the years. Toowong, Australia: The Scout Association of Australia-Queensland Branch.. p. 79)
The Totem (1957). "Ipswich district attains County status". Vol. 19 (222), August p. 2.
Australian Boy Scouts Association, Queensland Branch (1958). Annual Report 1957-1958.
Australian Boy Scouts Association, Queensland Branch (1960). Annual Report 1959-1960.
Australian Boy Scouts Association, Queensland Branch (1965). Annual Report 1964-1965.
The Boy Scouts Association, Queensland Branch (1971). Area, group and district directory 1971. Abel & Co.
The Scout Association of Australia, Qld Branch. (1983). Directory: Areas, Regions, Districts, Groups 1983.
Scouts Australia, Queensland Branch (2018, March 7). Formation listing 2018. Retrieved from https://scoutsqld.com.au/members/formation-listing/