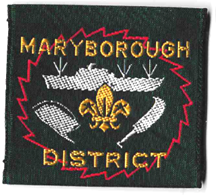 Maryborough District (Ext)

Badge Description
Scout logo
Sugar Cane = Sugar cane industry growing locally
Miners hat : coal
Ship = carrying sugar for export
Jagged Circular "red" Saw = Timber Industry
The badge was first issued in September 1964 [4]
Previous Badge Variations
The following are variations of the badge: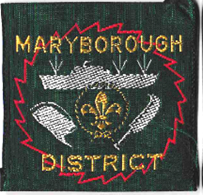 Type = Ribbon
52 x 50 mm
Ext
History
Maryborough district derived its name from the Mary River which was named in 1847 after Lady Mary Lennox (1790–1847) the wife of Sir Charles Augustus Fitzroy, then Governor of the colony of New South Wales. Lady Mary was killed in a coach accident very soon after, devastating Sir Charles.  During the second half of the 1800s, the city was a major port of entry to immigrants arriving in Queensland from all parts of the world.
In terms of scouting, the first local association and the start of Maryborough district was announced in 1943 [1, 2].  At the time, the first Group was formed in Pialba [2].  Prior to the Wide Bay & Burnett Region being formed, the Maryborough district was part of the South East Queensland Zone, which was administered by Branch Headquarters in Brisbane, and districts were supported by Field Commissioners [3].  In 1972, the districts within this Zone included: Maryborough, Maheno, Gympie, Cooroora, Beaver Masters, Nambour, D'Agular Range, Murrumba, Bunya, Barambah, Condamine, Dolphin, South Coast, Stradbroke Island and Beaudesert districts.  The district closed in 1982 when it merged with Maheno district to become part of Fraser district [4, 5].
Groups
Maryborough District Groups (1960): 1st Maryborough Scout Group, 2nd Maryborough Scout Group , 4th Maryborough Scout Group , Pialba Scout Group, Urangan Scout Group, Baddow Scout Group, Howard Scout Group, Hervey Bay Scout Group [6]
Maryborough District Groups (1971): Baddow Scout Group, 4th Maryborough Scout Group , Maryborough West Scout Group , Moonaboola Scout Group [7]
References
Fones, R. (1992). In the light of all the years. Toowong, Australia: The Scout Association of Australia-Queensland Branch. p. 79, 80.
The Totem (1943). "District Notes". Vol 5 (56), June p. 15.
Scouting in Queensland (1972). "South-East Qld Zone Conference". Vol 11 (6), July, p. 5.
Haskard, D. (1983). The complete book of Australian Scout badges: Part 2, Queensland and Papua New Guinea. Chatswood, NSW: Badgophilist Publications. p. 17.
Scout (1981). Changes to area and district directory as appeared in September 1980 Scout. July, p. 6.
Australian Boy Scouts Association, Queensland Branch (1960). Annual Report 1959-1960.
The Boy Scouts Association, Queensland Branch (1971). Area, group and district directory 1971. Abel & Co.