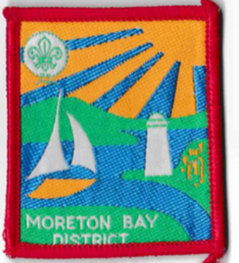 Moreton Bay District (Ext)

Badge Description
Scout logo
Lighthouse = Cleveland Lighthouse at Cleveland Point
Boat = Sailing activity on Raby Bay
Plants = Sugar Cane which was first commercially grown by Captain Louise Hope in Australia at Ormiston around 1864 [6].  From a scouting perspective, the Sugar Mill at Ormiston was also the location for the 1st Wood Badge course for adult leaders commencing on the 18th October 1924, run by Charles S Snow, Headquarters Commissioner (Adult Leader Training) [7].
Badge first issued in early 2000.
Previous Badge Variations
The following are variations of the badge: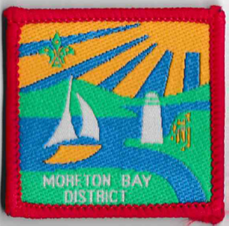 Type = Woven bound
46 x 44 mm
Ext
History
Moreton district derives its name from Moreton Bay which was given by Captain James Cook when he passed the area on 15 May 1770, honouring Lord James Douglas Morton, 14th Earl of Morton, President of the Royal Society (1764) and a Scottish astronomer.  The Royal Society is a learned society of science, which was founded in 1660 and is possibly the oldest continuous society in existence.  Captain James Cook's primary mission was to observe the "Transit of Venus" from Tahiti, and follow that with the search for the southern continent.  The spelling Moreton was an error in the first published account of Cook's voyage.
Moreton Bay district was establised in 1995, and first mentioned in the Brisbane South Area 1995 directory [1].  Thw District Commissioner in 1995 was Christine Cumptsy [1].  In 2002, Moreton Bay District and Logan City district were designated as Logan and Bay Region [2].  In 2012 Moreton Bay district was renamed Redlands district with the re-organisation of the Logan Bay area, and because the remaining groups were within the Redlands city boundary [3].
The Charles S Snow Environment Centre, also named Eprapah, and is used for environmental education [4]. This centre resides at Victoria Point within Moreton Bay district (in 2020 known as Redlands district).  In 1985, the 1st Asia-Pacific Environmental Conservation Seminar was held at Eprapah.  63 delegates from six Asia-Pacific Nations and 5 Australian states attended a week long seminar.Topics focused on Australian wildlife; interesting the young in environmental conservation; the Asia-Pacific environment; and koala health and habitat.  Sessions were conducted by academics and experienced personnel employed in wild life and industrial occupations [5].  Prior to being used as an Environmental Centre, it was used as a leader training site until 1953 when Baden Powell Park, Samford was established.  The 1st Scoutmaster course held at Eprapah was in 1928.
Groups
Moreton Bay District Groups (1995): Manly Lota Scout Group, Wynnum Scout Group, Wynnum North Scout Group, Alexandra Hills Scout Group, Birkdale Scout Group, Bayside Sea Scout Group, Capabala Scout Group, Wellington Point Sea Scout Group, Cleveland Heights Scout Group, Manti Scout Group, Mt Cotton Scout Group, Victoria Point Scout Group, Helaman Scout Group, Hemmant Scout Group [1]
Moreton Bay District Groups (2002): Manly Lota Scout Group, Wynnum Scout Group, Wynnum North Scout Group, Alexandra Hills Scout Group, Birkdale Scout Group, Bayside Sea Scout Group, Capabala Scout Group, Wellington Point Sea Scout Group, Cleveland Heights Scout Group, Manti Scout Group, Mt Cotton Scout Group, Victoria Point Scout Group [2]
Moreton Bay District Groups (2011): Birkdale Scout Group, Capabala Scout Group, Cleveland Scout Group, Manly-Lota Scout Group, Mt Cotton Scout Group, Victoria Point Scout Group, Wynnum Scout Group [8]
References
The Scout Assoc of Australia, Queensland Branch (1995). Brisbane South Area Directory
Priest, J. W. (2002, August 6). [Chief Commissioner Qld Memorandum to Branch Team on Regional Appointment]. Heritage Centre Archive, Baden Powell Park, Samford, Queensland.
Tuckwood, p. District Commisioner, Redlands district. Personal communique: 16.3.2017.
Historical Scout Project Receives National Trust Award. Retrieved on 8.4.2018 from http://www.convergehc.com.au/awards/historical-scout-project-receives-national-trust-of-queensland-award.html
Fones, R. (1992). In the light of all the years. Toowong, Australia: The Scout Association of Australia-Queensland Branch, p.183.
Menzies,S. Group Leader, Birkdale Scout Group, Redlands district. Personal communique: 16.12.2020.
Fones, R. (1992). In the light of all the years. Toowong, Australia: The Scout Association of Australia-Queensland Branch, p.21.
Scouts Australia, Queensland Branch. Electronic archive database retrieved March 2018