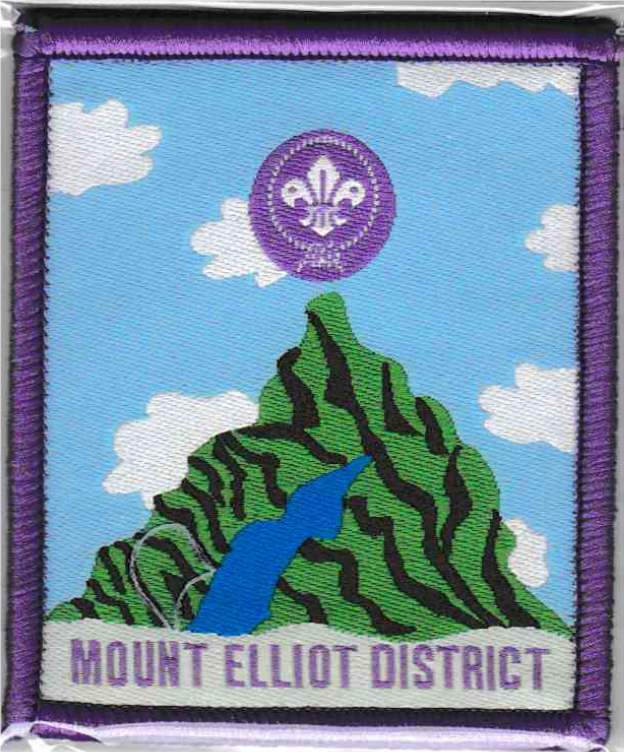 Badge Description
World Scout Emblem = world brother/sisterhood of scouting around the world
Mountain = Mount Elliott (1220 metres), which is part Bowling Green Bay National Park
Blue Water = There are lots of springs and rivers (i.e., Alligator Creek Water Fall), besides one of the groups is on the Burdekin River.
The badge was designed by 2 scouts Tegan Kelsey (Belgian Gardens) and Shay Ryder (Wulguru Scout) in 2019.
History
Mount Elliot was formed in 2018 [1].  Its first District Commissioner was Jenny Staddon. 
Districts within Kennedy Region's three districts were named after mountains, by the Region Commissioner Andrew Houghton who said that "As scouts are always aiming high, mountains can also be climbed on, abseiled down, bushwalked, mountain biked, kayaked and canoed, flown around and mountains are essentially adventurous.  The mountain peaks overlook the region and have history both in our time and before like scouts, will be around long after we are gone" [2].
The district is named after Mount Elliott, which is named after Gilbert Eliot, the Member of the Legislative Assembly of Queensland for Wide Bay in the 1st Queensland Parliament in 1860.
Groups
Mount Elliot District Groups (2018): Belgian Gardens Scout Group, Pimlico-Mundingburra Scout Group, Wulguru Scout Group, Lower Burdekin Scout Group
References
The Scout Association of Australia, Qld Branch (2019). Annual Report 2018/19, Chief Commissioner's Report, p. 6.
Flecker, M. Joey Leader, Loam Island Scout Group, Mount Spec District on District Badge Competition Guidelines, Kennedy Region, issued on 27.10.2018. Personal communique 29.10.2018.
Staddon, J. District Commissioner, Mount Elliott District, Personal communique 26.6.2019.