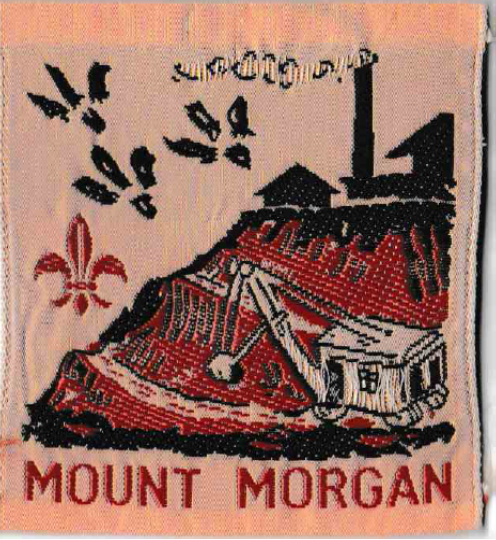 Mount Morgan Group and District (Ext)

Badge Description
Scout Emblem
Scene= Open Cast mine and refinery which is the main industry in the area
The badge depicted is not a district badge, and is instead the Mount Morgan Group badge.  Despite Mount Morgan once being a district, there was no official district badge and instead a name-tape, it ceased to be a district before the first official Queensland district badges were produced.
History
Mount Morgan was founded as a gold mining town in 1882, and over time, the mine has also produced gold, silver and copper.  Mount Morgan is 341 metres above sea level.  The wealth from the Mount Morgan mine funded Persian oil exploration, establishing the Anglo-Persian Oil Company, which became BP in 1954.
Mount Morgan is a historic town with many interesting things to see such as the Mafeking bell, Running of the Cutter Statue, the Bakery, Gold mine, Historical museum, the No 7 dam, and the Private Victor Stanley Jones Suspension bridge.
The Mount Morgan scouts were an offshoot of the original Boy Scout Association, in that they were affiliated with the Boys Brigade, and wore Boy's Brigade uniforms, but took a modified Scout Promise.  They were known as Mount Morgan Scouts, Blue Boy Scouts, or 1st Mount Morgan Company.  The unit was registered with the Boys' Brigade (BB) Scouts as the 1st Mount Morgan Company in 1910. The Company also that year affiliated itself with the Australian League of Boy Scouts Queensland.  Their headquarters was at St. Enoch's Presbyterian Church, Mount Morgan.  The first "Local Association" that was established, with a committee that included a President and Secretary, in support of a whole district was Mount Morgan in 1924 [1].  In 1926, Mt Morgan witnessed 3 sponsored troops (i.e., Presbyterian, Roman Catholic, Methodist churches) being formed, each with its own distinctive uniforms [2].  Mount Morgan was also once a district which was established in 1943 where its first District Commissioner was G.C. Mullins [3].  The Mount Morgan Group Den was formally opened in February, 1969 [4].  In 1971, Mount Morgan Group was later attached to Branch HQ.
Groups
1st Mount Morgan Group [New Warrants 16/183 April, p. 19. 1954]
8th Mount Morgan Group [Appointments 5/52 March, p. 1943]
References
Fones, R. (1992). In the light of all the years. Toowong, Australia: The Scout Association of Australia-Queensland Branch.. p. 25
Fones, R. (1992). In the light of all the years. Toowong, Australia: The Scout Association of Australia-Queensland Branch.. p. 5
The Totem (1943). "District Notes" &"Appointments" Vol 5 (50), p. 3, 22
Scouting in Queensland (1969). Scouting with the Chief". Vol 8 (3), April, p. 9.