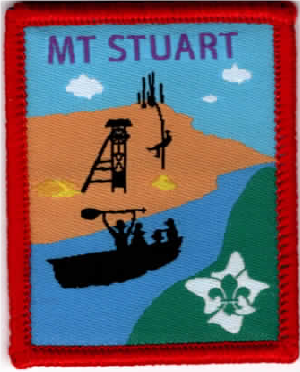 Badge Description
Scout logo
Mountain = Mount Stuart with telecommunication and television towers
River = Ross River which flows in front of Loam Island Scout den
Canoe = rowers who row on the Ross river weekly
Abseilers = abseiling off Mount Stuart
Mining Poppet Head Tower = Gold Mining (one of the old mine shafts houses a seismograph to measure earthquakes) and past links with Charters Towers district
Green patch = green parklands around Kirwan Scout Hall
The badge design was initially produced by Jesse Hubinger (Scout) and some of the members (Dad and Sons) of the McKeown family, Kirwan Scout Group.  The rough design was graphiccally enhanced by Ron Ostrenski (Adult Helper Radio-JOTA) in 2020 [5, 6].
History
Mount Stuart district is named after a mountain ridge, west of Townsville, called Mount Stuart named after Clarendon Stuart (1833–1912) who, in 1859, was Townsville's first district surveyor.
Mount Stuart district was originally formed in 1968, and its first District Commissioner was Mr R. Goldbrough (former ASM, Pimlico Scout Group) [1, 2].  The district was split in 1974 into Ross River district and Castle Hill district. [3].  Mount Stuart was re-formed in 2018 [4].  In 2018, its District Commissioner was Peter Drew.  Districts within Kennedy Region's three districts were named after mountains, by the Region Commissioner Andrew Houghton who said that "As scouts are always aiming high, mountains can also be climbed on, abseiled down, bushwalked, mountain biked, kayaked and canoed, flown around and mountains are essentially adventurous.  The mountain peaks overlook the region and have history both in our time and before like scouts, will be around long after we are gone" [5]. 
Groups
Mount Stuart District Groups (2018): Mt Louisa Scout Group, Kirwan Scout Group, Loam Island Scout Group, Charters Towers Scout Group
References
Scouting in Queensland (1968). "Inauguration of Kennedy Area". Vol 7 (11), December, p. 14-15.
Scouting in Queensland (1969). "Warrant Changes". Vol 8 (4), May, p. 23.
Haskard, D. (1983). The complete book of Australian Scout badges: Part 2, Queensland and Papua New Guinea. Chatswood, NSW: Badgophilist Publications. p. 18.
The Scout Association of Australia, Qld Branch (2019). Annual Report 2018/19, Chief Commissioner's Report, p. 6.
Flecker, M. Joey Leader, Loam Island Scout Group, Mount Spec District on District Badge Competition Guidelines, Kennedy Region, issued on 27.10.2018. Personal communique 29.10.2018.
Anne-Marie Hislop, Group Leader (Kirwan Scout Group), Kennedy Region, Personal communique 9.8.2020.