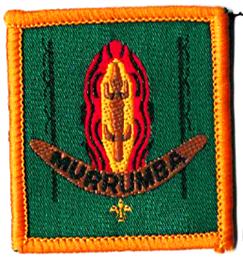 Badge Description
Scout logo = Reminder to  keep the true direction in life  and to keep the scout promise
Green = good and beautiful land
Spears = remind us of the wrong things in life , against which we must fight & also marks the district boundaries
Shield = to be ready to help others
Lizard = wildlife in the area
Boomerang = the kindness we send out to others in the world comes back to us.
The badge was designed by Allison "Baloo" Brown (nee Ballard), Cub Leader, Kallangur Cub Pack.
Embroided handmade versions which were produced in a sheltered workshop were first issued in 1962 [2].
Previous Badge Variations
The following are variations of the badge:
​
Embroided and handmade by persons with disabilities at Sheltered Workshops.  Thus, each badge is slight different.

(Issued 1962)  [2]

Type = Woven bound

Type: Ribbon

Type: Ribbon

Type: Woven bound

(issued 1982) [2]

Type: Woven bound

Various sizes

51 x 45 mm

52 x 50 mm

52 x 58 mm

52 x 60 mm

Ext 

Ext

Ext

Ext

Ext 

Ext
History
Murrumba district is named after the suburb of Murrumba Downs, which was named after the property and homestead of Tom Petrie, an early settler, back in 1859.  The word Murrumba is carved on the boomerang which hung over the gateway of Tom's homestead.  Murrumba is the Turball word for "good and beautiful land" [1,2].
Murrumba district was established in 1954 [3].  Prior to Murrumba district being formed, part of the area which it occupied was known as Stanley River district [4].  The first District Commissioner was Gordon Jackson, who was also District Commissioner of the previous Stanley Rivers district [4].  In 1984 Enid Cole became District Commissioner of Murrumba District, and the first female District Commissioner in Queensland.  Murrumba District was re-organised on 1969, resulted in a reformed Murrumba district and a new D'Aguilar Range district [5].  In 1969, the District Commisioner was D. Hawkins.  Prior to the Northern Moreton Bay Region being formed, Murrumba district was part of the South East Queensland Zone, which was administered by Branch Headquarters in Brisbane, and districts were supported by Field Commissioners [6].  In 1972, the districts within this Zone included: Maryborough, Maheno, Gympie, Cooroora, Beaver Masters, Nambour, D'Agular Range, Murrumba, Bunya, Barambah, Condamine, Dolphin, South Coast, Stradbroke Island and Beaudesert districts.
Groups
Murrumba District Groups (1963): Caboolture Scout Group, Kallangur Scout Group, Narangba Scout Group, Petrie Scout Group [7]
Murrumba District Groups (1969): Burpengary Scout Group, Kallangur Scout Group, Lawnton Scout Group, Petrie Scout Group, Strathpine Scout Group [5]
Murrumba District Groups (1971): Burpengary Scout Group, Kallangur Scout Group, Lawnton Scout Group, Petrie Scout Group, Strathpine Scout Group [8]
Murrumba District Groups (1983): Burpengary Scout Group, Kallangur Scout Group, Lawnton Scout Group, Petrie Scout Group, Strathpine Scout Group [9]
Murrumba District Groups (2018): Albany Creek Scout Group, Burpengary Scout Group, Dayboro Scout Group, Kallangur Scout Group, Lawnton Scout Group, Narangba Scout Group [10]
References
Murrumba = "good". (30/10/2018) Retrieved from https://sandgatess.eq.edu.au/Supportandresources/Formsanddocuments/Documents/indigenous-heritage-document.pdf
Haskard, D. (1983). The complete book of Australian Scout badges: Part 2, Queensland and Papua New Guinea.  Chatswood, NSW: Badgophilist Publications. p. 18
Fones, R. (1992). In the light of all the years. Toowong, Australia: The Scout Association of Australia-Queensland Branch.. p. 80, 130
Murrumba District Association 1953-1988.Museum Opening Commemorative Booklet. 14.
Scouting in Queensland (1969). "Warrant Changes". Vol. 8 (6), July, p.20.
Scouting in Queensland (1972). "South-East Qld Zone Conference". Vol 11 (6), July, p. 5.
Australian Boy Scouts Association, Queensland Branch (1963). Annual Report 1962-1963.
The Boy Scouts Association, Queensland Branch (1971). Area, group and district directory 1971. Abel & Co.
The Scout Association of Australia, Qld Branch. (1983). Directory: Areas, Regions, Districts, Groups 1983.
Scouts Australia, Queensland Branch (2018, March 7). Formation listing 2018. Retrieved from https://scoutsqld.com.au/members/formation-listing/