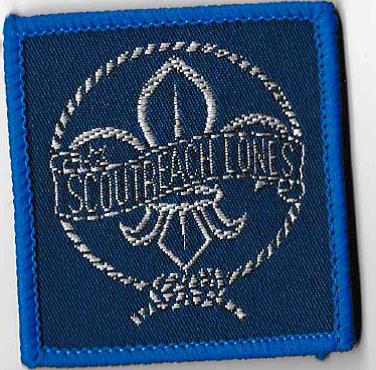 Badge Description
World Scout emblem in "Design for Tomorrow" rope and reef knot
Banner with Scout Reach Lones
Wording: QLD, Commenced 1934
History
Scout Reach Lones caters to youth who are unable to attend or find a local Scout Group (i.e., boarding school, isolated communities).  This also includes those who are constantly travelling or in countries where there is no local scout group.  Established in 1934, 1st Commissioner Frank Isley [1], who had an in-depth knowledge of problems facing the rural areas, and had been responsible for finding work for scouts who had emigrated from Britain.  In 1938, Cameron Blanch of Eudlo, a lone Rover, was decorated by State Chief Scout Sir Leslie Wilson with the then highest award the "Cornwall Badge" [1].  In 1936, despite having a paralysed left arm, he rescued, without assistance, a bullock team from a bushfire, and extinguished a homestead fire which severely burned his paralysed arm.  Lone Scouting activities in the 1950s were carried out by correspondence, and supported by the "Smoke Signal", the Lone Scouts page in the Scout Movement's magazine "The Totem".  Annual camps provided the means to pass tests that were difficult to supervise locally.  The 1st Queensland Lone Scout Troop was formed in 1956 [2].   At the time of writing, in 2018, the Scout Reach Lones was operating as a Group, and located administratively, within Tyakunda District, Brisbane North Region [3].
References
Fones, R. (1992). In the light of all the years. Toowong, Australia: The Scout Association of Australia-Queensland Branch. p.44.
The Totem (1956). "Smoke Signals – First Queensland Lone Scout Troop", Vol 18, (208), June, p. 14.
Hansen, G. Group Leader, Scout Reach Lones, personal communique 27.2.2018.