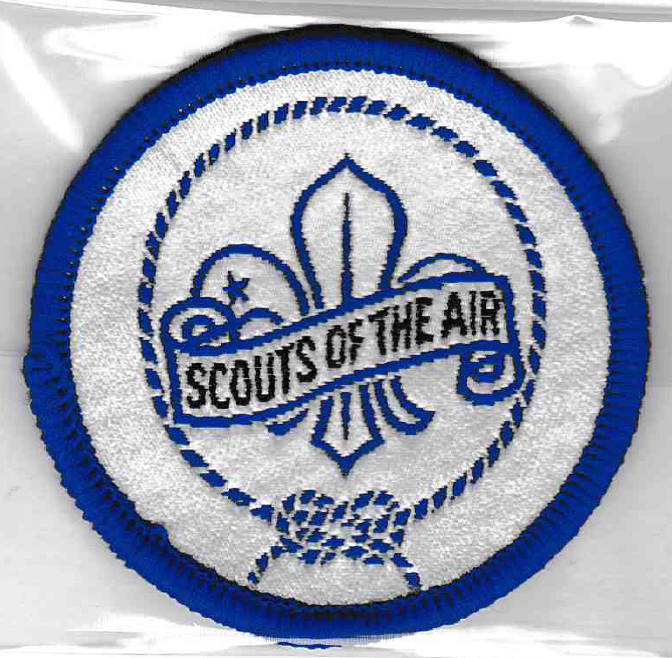 Badge Description
The badge depicted above is from NSW.  The main badge used in Queensland was generally a name-tape with the words "Scouts-of-the-Air".  Scout Logo encircled by rope with reef knot

Wording: Scouts of the Air
History
Scouts of the Air was originally conceived as a programme in Outback Queensland for Cub scouts who are in isolated communities who, are with "School of the Air" programme and would communicate, via radio, with a Cub Scout leader with regards to their programme [1. 2].
Where distance was a disadvantage, Cubs received extra training via radio communication.
11th September 1976, Jenny Staddon (Leader Trainer & Cub Leader) and June Eames, along with Kalkadoon District staff initiated training via Radio Communication to 10 'new chums' (Cubs). The Royal Flying Doctor Service co-operated and allowed the use of their broadcasting facilities. The "School of the Air" frequency was used.
13th November 1976: Cubs of the Air officially launched at Mount Isa by State Governor, Sir Colin Hannah.
Cubs of the Air Packs established in Charleville and Cairns and Charters Towers (Kuaran), Long Reach.
1980s: Scouts of the Air was established when the Cubs moved up to scouts.
In 2018: the Group was still being run out of the Mt Isa, School of the Air building. They were part of the Central and Western Region.
References
Fones, R. (1992). In the light of all the years. Toowong, Australia: The Scout Association of Australia-Queensland Branch. p.189.
Staddon, J. Region Commssioner, North Western Region, and District Commissioner, Kalkadoon District & Cubs of the Air co-founder. Personal communique 16.2.2018.