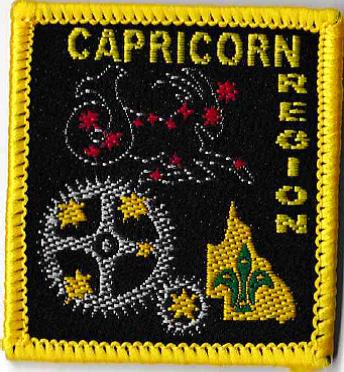 Badge Description
Scout emblem
Zodiac Sea Goat & Stars (South Rockhampton)= Tropic of Capricorn passes through, and there is a monument in Rockhampton. Capricornus represents a creature that is a blend of fish and goat and the name means "goat horn" in Latin.
Cog wheel = Industry
Map = area in North Queensland
History
Capricorn Region was formed in 1991, as a result of a Branch decision to move from two big country regions to six smaller country regions in line with the branch philosophy to decentralise the scouting areas.  Its first Region Commissioner was Lyle Bird [1].  In 2016, Central and Coastal Region merged with Capricorn Region in 2016 to form Central Coast Region.  The last Capricorn Region Commissioner was Stephen Kydd [2].  Prior to the Capricorn Region being formed, it was part of the Central Queensland Zone, which was administered by Branch Headquarters in Brisbane, and districts were supported by Field Commissioners [3]. 
Districts
Central Queensland Zone Districts (1972): Rockhampton, Port Curtis, Mackay, Bundaberg and Ceratodus districts [3].
Capricorn Region Districts (2016): Rockhampton, Port Curtis, Callide [4]
References
The Scout Association of Australia, Qld Branch (1992). 84th Annual Report.
Scouts Australia, Queensland Branch (2016). Annual Report 2015-2016. p. 3]
Scouting in Queensland (1972). "Capricorn Coast Zone Conference Report". Vol 11 (6), July, p. 4.
Scouts Australia, Queensland Branch. Electronic archive database retrieved 4th April 2018.