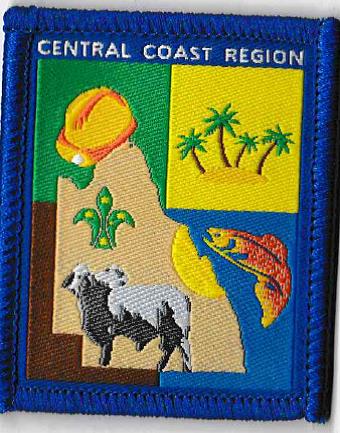 Badge Description
Scout emblem
Queensland Map silhouette with Central Coast Region highlighted in yellow
Fish: Jumping fish indicative of healthy Pacific Ocean and related fishing
Tropical Island = South to Northern extremes of the Great Barrier Reef
Bull = Brahman Bull represents the cattle industry from Capricornia
Hard Hat = Industry inclusive of significant mining throughout west coast region
Colours (Quarters) of the Region: Yellow (sun), Blue (sky), Ochre (soil), Green (life)
The badge was designed by Lesley Bullemor, Group Leader, Bowen Scout Group.
The badge was issued in 2017.
History
The Central Coastal Region was formed as a merger between Central and Coastal Region and Capricorn Region in 2015/2016.  The first Central Coast Region Commissioner was Dougal McWhinney [1].  In 2018, it was announced that there would be 3 districts within the Region which were Hibiscus Coast district, Capricorn district and Port Curtis district [2].
Districts and Groups
Central Coast Region Groups (2017): Groups Northern Zone: Andergrove, Bowen, Mackay, Pioneer Valley, Sarina, Whitsunday Coast, Groups Central Zone: Biloela, Gracemere, Mount Archer (Rockhampton), Warripari Scouts (West Rockhampton), Yeppoon, Rockhampton, Groups Southern Zone: Gladstone, Boyne–Tannum, Calliope, Dolphin Sea Scout (Gladstone), Kareeba Scout (Barney Point)
Central Coast Region districts (2018): Hibiscus Coast, Port Curtis, Capricorn [3].
References
Scouts Australia, Queensland Branch (2017). Annual Report, p. 3.

Central Coast Region Newsletter (2018). Region Commissioner's Report. Mar Edition, p. 1.

Central Coast Region website. Accessed: 4.5.2018 from http://centralcoast.scoutsqld.com.au/