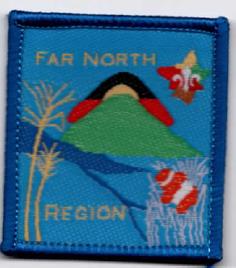 Previous Badge Variations
The following are variations of the badge: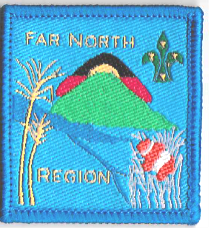 Type Woven bound
47 x 49 mm
Ext
History
The first troop within Far North Queensland was established in Cairns in 1909/10 [1], and its Scoutmaster in 1909 was a Mr Hartley [2].  Initially, all the troops and packs were registered as "Local Associations", and were registered, and administered, directly by the League of Baden-Powell Scouts, Queensland Section [3].  As Queensland started to organise itself into districts, Cairns districts was the first district to be formed in North Queensland in 1943 [4].  This was later followed by Innisfail district (formed between 1944-1955) [5].  In 1968, further re-organising took place, when the Coral Coast Area was formed with an office in Cairns [6].  Within the Coral Coast area there were a number of districts, which also included the Torres Strait district [7].  These districts eventually either, merged to form other districts, or closed down.  When Far North Region was formed in 2001 [8], it initially had several districts which were subsequently closed, and all groups were subsequently managed centrally by the region.  By 2018, there had been 106 Groups within the region since it was established [8].  The first Region Commissioner of the Far North Region was Peter Chapman, who also happened to be the last Area Commissioner of the Coral Coast Area [9].
Districts

Far North Region Districts (2003): Bartle Frere, Marlin Coast, Mulgrave, Palmerston, Tinaroo, Torres Strait, Whitfield Range [10].
Far North Region Groups (2018): Atherton Scout Group, Bayview Scout Group, Edge Hill Scout Group, Edmonton Scout Group, Freshwater Scout Group, Goondi Scout Group, Gordonvale Scout Group, Malanda Scout Group, Mareeba Scout Group, Mission Beach Scout Group, Northern Beaches Scout Group, Ravenshoe Scout Group [11]
Far North Region Districts (2019): Coral Coast, Tablelands, Bartle Frere [12]
References
Fones, R. (1992). In the light of all the years. Toowong, Australia: The Scout Association of Australia-Queensland Branch. p. 3.
Brisbane Courier (4. Dec. 1909). Boy Scout Column. p. 16.
Fones, R. (1992). In the light of all the years. Toowong, Australia: The Scout Association of Australia-Queensland Branch. p.23
Fones, R. (1992). In the light of all the years. Toowong, Australia: The Scout Association of Australia-Queensland Branch. p.79.
Fones, R. (1992). In the light of all the years. Toowong, Australia: The Scout Association of Australia-Queensland Branch. p. 90.
Scouting in Queensland (1968). "District and Area Changes". Vol. 7 (1), February, p. 31.
Scouting in Queensland (1967). "Scouting in the Torres Strait". Vol. 6 (1), February p. 55.
Digweed, p. Region Commissioner, Far North Region. Personal communique: 16.2.2018
Teufel, D. Branch Commissioner (Heritage), Scouts Australia, Qld Branch. Personal communique: 31.5.2019
Scouts Australia, Queensland Branch (2003, November 6). Formation listing 2003.
Scouts Australia, Queensland Branch (2018, March 7). Formation listing 2018. Retrieved from https://scoutsqld.com.au/members/formation-listing/
Far North Queensland, Scouts Facebook posting 11:03 PM, 13th August 2019. Retrieved from: https://www.facebook.com/farnorthscouts/