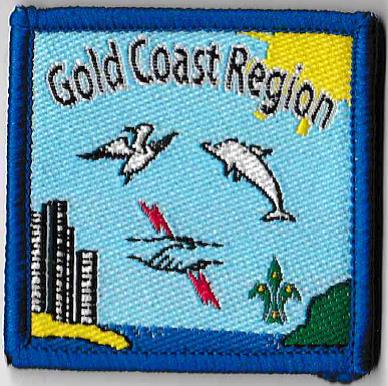 History
The Gold Coast Region is named after the Gold Coast City Council.  Gold Coast was originally known as the South Coast (because it was south of Brisbane). However, inflated prices for real estate and other goods and services led to the nickname of "Gold Coast" from 1950. Soon the "Gold Coast" simply became a convenient way to refer to the holiday strip from Southport to Coolangatta. As the tourism industry grew into the 1950s, local businesses began to adopt the term in their names, and on 23 October 1958 the Town of South Coast was renamed Town of Gold Coast. 
From a scouting perspective, the Gold Coast Region was formed 2002 and the first Region Commissioner was Bentley O'Connor [1].  Gold Coast Dolphin, Gold Coast Pelican and Albert Lindesay districts closed in 1st April 2010, and all groups were administered by the region [2].  In 1983, prior to the Gold Coast Region being formed, some of the districts were administered by the South Eastern Region which covered country districts North and South of Brisbane.  Field Commissioners provided professional support to the region, and administrative functions were carried out by a Regional Clerk at Queensland Branch Headquarters [3, 4].  In 2019, the region was restructured to re-introduce districts [6].
Districts

South Eastern Region districts (1972): Maryborough, Maheno, Gympie, Cooroora, Beaver Masters, Nambour, D'Agular Range, Murrumba, Bunya, Barambah, Condamine, Dolphin, South Coast, Stradbroke Island and Beaudesert districts [4]
Gold Coast Region Groups (2018): Ashmore Scout Group, Beaudesert Scout Group, Beenleigh Scout Group, Burleigh Heads Scout Group, Canungra Scout Group, Coomera Scout Group, Greenbank Scout Group, Helensvale Scout Group, Jimboomba Scout Group, Labrador Scout Group, Logan Village Scout Group, Mudgeeraba Scout Group, Nerang Scout Group, Palm Beach Scout Group, Paradise Point Scout Group, Parkwood Heights Scout Group, Tamborine Mountain Scout Group, Teviot Scout Group, Ormeau Scout Group [5]
Gold Coast Region Districts (2019): Lamington, Broadwater, Wyaralong [6]
References
See, B. (2018). Asst Region Commissioner (Group Support). Personal communique. 16th June 2018.
Campbell, B. (2013). Bob's Blog. Gold Coast Region Newsletter, April, p. 1-2.
Fones, R. (1992). In the light of all the years. Toowong, Australia: The Scout Association of Australia-Queensland Branch. p. 133
Scouting in Queensland (1972). "South-East QLD Zone Conference". Vol 11 (6), July, p. 5.
Scouts Australia, Queensland Branch (2018, March 7). Formation listing 2018. Retrieved from https://scoutsqld.com.au/members/formation-listing/
Scouts Australia, Queensland Branch (2019). Gold Coast District progress. Chief's Newsletter, 40:25.