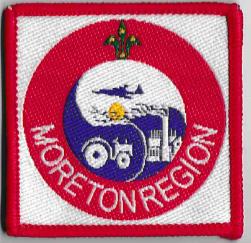 Badge Description
The whole badge represents a promise for the future
Scout emblem
Smoke stack =  Swanbank Power Station representing growing factories and expanding secondary industries.
Aircraft = Australia's main RAAF airbase at Amberley
Tractor = Large primary development and agricultural industry in the Lockyer Valleyand Brisbane Valley
Circular shapes = large water reserves and dams in the area supplying both primary and secondary industry
Overall wheel shape = aim of progress
History
Moreton Region derives its name from Moreton Bay which was given by Captain James Cook when he passed the area on 15 May 1770, honouring Lord James Douglas Morton, 14th Earl of Morton, President of the Royal Society (1764) and a Scottish astronomer.  The Royal Society is a learned society of science, which was founded in 1660 and is possibly the oldest continuous society in existence.  Captain James Cook's primary mission was to observe the "Transit of Venus" from Tahiti, and follow that with the search for the southern continent.  The spelling Moreton was an error in the first published account of Cook's voyage.
The early beginnings of Moreton Region, and Area, go back to 1957 when Ipswich District was re-organised as Moreton County and initially contained 3 districts [1, 2].  At the time, in order to permit closer association between districts and groups, each district within Moreton County was limited to 6 Groups.  The first Moreton County Commissioner was Mr Ralph. O. Worley.  Moreton County was re-named Moreton Area in 1965 [3].  In 1986, Pam Beasley became the first female Area Commissioner (Moreton Area) in the State of Queensland [4].  In 2003, Moreton Area changed its name to Moreton Region, when the administration of membership and adult training were transferred from the former Area offices to Queensland Branch HQ.
Districts
Moreton Country Districts (1957): Flinders, Brisbane Valley, Limestone [2, 5]
Moreton County Districts (1965): Flinders, Brisbane Valley, Limestone [3]
Moreton Area Districts (1968): Brisbane Valley, Flinders, Limestone, Lockyer [6]
Moreton Area Districts (1971): Brisbane Valley, Flinders, Limestone, Lockyer [7]
Moreton Area Districts (1980): Atkinson, Flinders, Limestone  Source: [8]
Moreton Area Districts (1982):  Atkinson, Flinders, Limestone.  Source: [9]
Moreton Area Districts (1983):  Atkinson, Flinders, Limestone [10]
Moreton Area Districts (1986):  Atkinson, Flinders, Limestone [11]
Moreton Region Districts (2018):  Limestone, Flinders, Atkinson, Woogaroo, Fassifern [12]
Moreton Region Districts (2020):  Limestone, Flinders, Atkinson, Woogaroo
References
Fones, R. (1992). In the light of all the years. Toowong, Australia: The Scout Association of Australia-Queensland Branch. p. 79.
The Totem (1957). "Ipswich district attains County status". Vol. 19 (222), August p. 2.
Fones, R. (1992). In the light of all the years. Toowong, Australia: The Scout Association of Australia-Queensland Branch. p.132.
Fones, R. (1992) In the light of all the years. Toowong, Australia: The Scout Association of Australia-Queensland Branch. p. 133.
The Totem (1957). "New District Formed". Vol. 19 (225), November, p. 5.
Scouting in Queensland (1968). "Figures are Fascinating". Vol. 7 (11), December, p. 10-11.
The Boy Scouts Association, Queensland Branch (1971). Area, group and district directory 1971. Abel & Co.
Scout (1980) Area & District Directory, September, p.8.
Scout (1982) Area & District Directory, December, p.48.
The Scout Association of Australia, Qld Branch. (1983). Directory: Areas, Regions, Districts, Groups 1983.
The Scout Association of Australia, Qld Branch. (1986). "Organisation of Queensland Branch" chart in: Scouting in Queensland. Heritage Centr

e Archive, Baden Powell Park, Samford, Queensland.

Scouts Australia, Queensland Branch (2018, March 7). Formation listing 2018. Retrieved from https://scoutsqld.com.au/members/formation-listing/