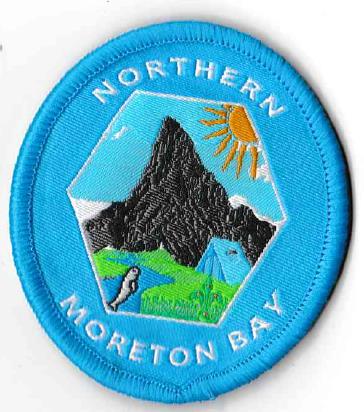 Northern Moreton Bay Region

Badge Description
Scout Emblem
Sun: Sunshine
Mountain: Representative of the D'Aguilar mountain range that runs along the west of the region.  Within the range is Camp Mountain, Mount Nebo, Mount Pleasant, Mount Glorious, Mount Samson and Mount Mee.  The highest peak is Tenison Woods Mountain (770 m) followed by Mount D'Aguilar (750 m).
Tent: Camping within the region.
River & Bay:  There are several major rivers (i.e., Pine River, Caboolture River, Elimbah Creek, Ningi Creek, Coochin Creek) within the region that flow out into the Pumicestone Passage and Moreton Bay.
Dugong: Can be found feeding on seagrass within the Pumicestone Passage.
The badge designed in 2016 by Dominique Knowles, Scout, Narangba Scout Group
History
The Region was formerly named Near North Coast and Country Region which was formed in 2003.  It was renamed Northern Moreton Bay Region in 2016.  The Region Commissioner in 2016 was Steven Arthur [1].  No badge was ever produced for Near North Coast and Country Region, whose Region Commissioner in 2004 was Irma Howell [2].  Prior to the Near North Coast and Country Region being formed, it was part of the South East Queensland Zone, which was administered by Branch Headquarters in Brisbane, and districts were supported by Field Commissioners [3].
Districts

South East Queensland Zone districts (1972): Maryborough, Maheno, Gympie, Cooroora, Beaver Masters, Nambour, D'Aguilar Range, Murrumba, Bunya, Barambah, Condamine, Dolphin, South Coast, Stradbroke Island and Beaudesert [3].
Near North Coast and Country Region districts (2011): Murrumba, Redcliffe, D'Aguilar Range.
Northern Moreton Bay Region Districts (2018): Murrumba, Redcliffe, D'Aguilar Range [4]
References
Scouts Australia, Queensland Branch (2017). Annual Report 2016-2017. p. 5
Scouts Australia, Queensland Branch (2005). Annual Report 2004-2005. p. 3
Scouting in Queensland (1972). "South-East QLD Zone Conference". Vol 11 (6), July, p. 5.
Scouts Australia, Queensland Branch (2018, March 7). Formation listing 2018. Retrieved from https://scoutsqld.com.au/members/formation-listing/