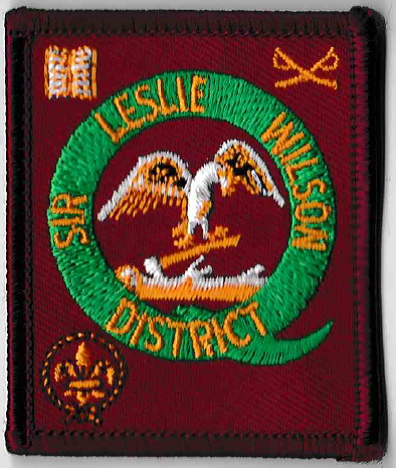 Sir Leslie Wilson District
Badge Description
Scouts emblem = membership of a world-wide organisation and our duty to others.
Large green 'Q' = Queensland
'Hawk' = Scout name of Sir Leslie Wilson and probably came from the 'Hawke' Battalion, Royal Naval Division, he commanded during the First World War.
'Axe & Log' = Baden Powell Park, Samford Leader Training Centre which resides within Sir Leslie Wilson district.
'Crossed Swords' = Office of Sir Leslie Wilson.  This also symbolises our duty to self – to do our best and seek the highest achievement we can.
Open book = 'Open Bible' reminding us of our duty to God.
The badge was first issued in June 1961 [1]
History
Sir Leslie Wilson district is named after Lt Colonel Sir Leslie Orme Wilson who was the Governor of Queensland (1932-46), Chief Scout of Queensland (1932-1943) and a politician [1].  He fought as a member of the Royal Marines at Gallipoli.  The district was established in 1959, and the first District Commissioner was N. L. Coar [2].
Groups
Sir Leslie Wilson District Groups (1960): Enoggera Scout Group, Everton Park Scout Group, Grovely Scout Group, Mitchelton Scout Group, 3rd Newmarket Scout Group [2]
Sir Leslie Wilson District Groups (1968): Alderley Scout Group, Camden Park Scout Group , Corbie Park Scout Group, Enoggera Scout Group, Everton Park Scout Group, Grovely Scout Group, Lehi Scout Group, Mitchelton Scout Group, Samford Scout Group [3]
Sir Leslie Wilson District Groups (1971): Alderley Scout Group, Camden Park Scout Group , Corbie Park Scout Group, Enoggera Scout Group, Everton Park Scout Group, Grovely Scout Group, Lehi Scout Group, Mitchelton Scout Group, Samford Scout Group [4]
Sir Leslie Wilson District Groups (1983): Camden Park Scout Group , Enoggera Scout Group, Everton Park Scout Group, Grinstead Park Scout Group, Grovely Scout Group, Lehi Scout Group, Mitchelton Scout Group, Samford Scout Group, Whaminda Park Scout Group [5]
Sir Leslie Wilson District Groups (2018): Enoggera Scout Group, Everton Park Scout Group, Grovely-Mitchelton Scout Group, McDowall-Bunya Scout Group, Samford Scout Group, Wahminda Park Scout Group [6]
References
Haskard, D. (1983). The complete book of Australian Scout badges: Part 2, Queensland and Papua New Guinea.  Chatswood, NSW: Badgophilist Publications. p.22.
Australian Boy Scouts Association, Queensland Branch (1960). Annual Report 1959-1960.
Boy Scouts Association, Queensland Branch (1968). Annual Report 1967-1968.
The Boy Scouts Association, Queensland Branch (1971). Area, group and district directory 1971. Abel & Co.
The Scout Association of Australia, Qld Branch. (1983). Directory: Areas, Regions, Districts, Groups 1983.
Scouts Australia, Queensland Branch (2018, March 7). Formation listing 2018. Retrieved from https://scoutsqld.com.au/members/formation-listing/