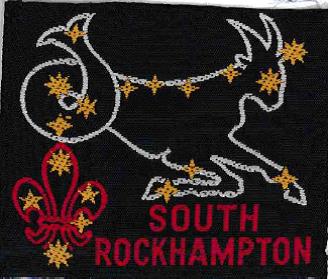 South Rockhampton District (Ext)

Badge Description
Scout logo with a Southern cross superimposed on top
Zodiac Sea Goat & Stars (South Rockhampton)= Tropic of Capricorn passes through, and there is a monument in South Rockhampton at Curtis Park, Allenstown. Capricornus represents a creature that is a blend of fish and goat and the name means "goat horn" in Latin.
The badge was first issued in November 1961 [5]
History
Rockhampton is named by William H. Wiseman, Commissioner of Crown Lands, after a "bar of rocks" on the Fitzroy River that hampered further upstream navigation from the coast.  The Fitzroy River provided a convenient waterway for shipping of supplies further into the Capricon district, and a settlement grew on the riverbanks just downstream of a bar of rocks which prevented further upstream navigation from the coast. These rocks were incorporated with the traditional English term for a village, and the name "Rockhampton" was first used around the 1850s.  The area where Rockhampton city centre is was originally called Gracemere run. 
South Rockhampton district was originally formed sometime around 1960, occuring due to a re-structuring of the already existing Rockhampton district [1].  South Rockhampton district is not mentioned in the 1958/59 Branch Annual Directories, and is not mentioned either in the 1961/62 Branch Annual Directories [2, 3].  However, the Groups that supposedly were part of South Rockhampton district, are listed, but grouped under the name of "Rockhampton" district.  The District Commissioner in 1963 was J. Mutimer.  Given these records, it is possible that the name South Rockhampton district was used only in 1960.  The groups merged back to form a single Rockhampton district by 1963/1964 [4].
Groups
"South" Rockhampton District Groups (1961): 1st Rockhampton (later St Pauls) Scout Group, 8th Rockhampton (later Toonooba) Sea Scout Group, 11th Rockhampton (later Warripari) Scout Group, 6th Rockhampton (later Allenstown) Scout Group, 3rd & 4th Rockhampton (later Goss Park) Scout Group, 2nd Rockhampton Wandall (later Hall Estates) Scout Group, 5th Rockhampton (later Fitzroy) Scout Group [3]
References
Murray, G. Group Leader, Warriparri Scout Group, Central Coast Region, Personal communique 16.3.2018
Australian Boy Scouts Association, Queensland Branch (1959). Annual Report 1958-1959.
Australian Boy Scouts Association, Queensland Branch (1962). Annual Report 1961-1962.
Australian Boy Scouts Association, Queensland Branch (1964). Annual Report 1963-1964
Haskard, D. (1983). The complete book of Australian Scout badges: Part 2, Queensland and Papua New Guinea. Chatswood, NSW: Badgophilist Publications. p.23