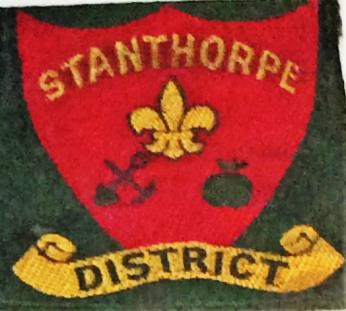 Stanthorpe District (Ext)

Badge Description
Scout logo
Pick and Shovel = Alluvial tin mining
Green Fruit = Agricultural produce Apple and Grapes (when tin prices fell, there was a shift to agriculture, which included wine making).  Grapes were first planted here in the 1860s with encouragement from the local Catholic parish priest Father Jerome Davadi to produce altar wine. His Italian descent made grape growing and wine production a familiar pastime and the notion caught on in the area. Today the apple and grape harvest festival is regularly held in Stanthorpe.
The badge was issued in August 1964 [1]
History
Stanthorpe was founded by tin miners in 1872.  At that time, the area was known as 'Quart Pot Creek'.  Stanthorpe became for a time, the largest alluvial tin mining and mineral field in Queensland.  The name Stanthorpe literally means 'tintown', as Stannum is Latin for 'tin' and thorpe is Middle English for 'village'.  The area is also known for orchards and fruit packing [1].
Scouting in the Stanthorpe area commenced on 20th May 1910, with the formation of the 1st Stanthorpe Scout Troop.  Up until 1984 there were 6 recorded Stanthorpe troops and groups which came and went [2].  By 1984, only 6th Stanthorpe Group, which subsequently was named Stanthorpe Group was still running [2].  It is unclear when Stanthorpe District actually began.  However, Stanthorpe District is mentioned in 1943, and at the time the District Commissioner was F.A.L. Jardine [3].  A District Scoutmaster, E. M. Baker, is also announced for the first time in 1943 [4, 5].
Stanthorpe district is again mentioned the 1957/1958 Branch Annual Report [6].  The District Commissioner F. S. Thorpe, formerly of 3rd Stanthorpe Scout Group, was later mentioned in the 1959/1960 Branch Annual Report [7].  The 2nd Queensland Scout Olympics was held in Stanthorpe district in May 1966 with over 260 participants.  The event was opened by Field Commissioner Vic Waddell [8]. Stanthorpe District closed in 1964 (i.e., mentioned in the Branch Annual Report 1963/64, but not mentioned on Branch Annual Report 1965/66), and the last District Commissioner was also F. S. Thorpe [9, 10].
Groups
Stanthorpe district Groups (1963): Stanthorpe Scout Group [6]
References
Haskard, D. (1983). The complete book of Australian Scout badges: Part 2, Queensland and Papua New Guinea. Chatswood, NSW: Badgophilist Publications. p. 23.
Jackson, I. (1984). A brief history of Scouting in Stanthorpe. In: Sixth Stanthorpe Scout Group (1934-1984): Opening of a new scout den at "Tibooburra" Stanthorpe, 17th November 1984 (Booklet), p. 3-6.
The Totem (1943). "Appointments". Vol 5 (53), May p. 22.
The Totem (1943). "District Notes". Vol 5 (56), June p. 15.
The Totem (1943). "Appointments". Vol 5 (56), June p. 22.
Australian Boy Scouts Association, Queensland Branch (1957). Annual Report 1956-1957.
Australian Boy Scouts Association, Queensland Branch (1959). Annual Report 1958-1959.
Fones, R. (1992). In the light of all the years. Toowong, Australia: The Scout Association of Australia-Queensland Branch.. p, 169.
Australian Boy Scouts Association, Queensland Branch (1964). Annual Report 1963-1964.
Australian Boy Scouts Association, Queensland Branch (1966). Annual Report 1965-1966.