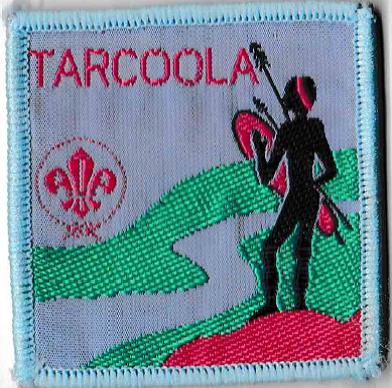 Tarcoola District (Ext) c

Maps
 Corinda , Tennyson , Salisbury  ; West End ; Dutton Park, Yeronga, Chelmer, Graceville, Sherwood, Jindalee, Holland Park West , Coorparoo, Moorooka
Badge Description
Scout logo
Scene = Bend in the river
Aboriginal figure with shield and spear looking over river, standing on a spot where a Bora Ring once existed.  Today a Bora Ring exists Sherwood, and the site of Corinda Railway station.
River = Brisbane River
Previous Badge Variations
The following are variations of the badge: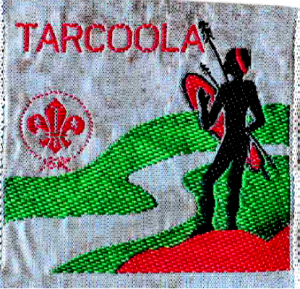 Type: Ribbon
52 x 40 mm; 51 x 37 mm
Ext
History
Tarcoola district was formed in early 1961 from part of John Oxley district [1, 2].  In 1961, the first District Commissioner was W. Williams [3].  The district was last mentioned in Brisbane South Area directories in 1988  [4], and re-opened in 2017 [9], and closed very shortly after and its groups absorbed into the reformed John Oxley District..  The name of the district was chosen as the original groups were located within a bend of the Brisbane River.  Tarcoola is the Aboriginal word for "Bend in the river" [5].
Groups
Tarcoola District Groups (1961): Chelmer Scout Group, Corinda Scout Group, Dunlop Park Scout Group, Graceville Scout Group, Montrose Scout Group, Sherwood Scout Group [3]
Tarcoola District Groups (1971): Chelmer Scout Group, Corinda Scout Group, Dunlop Park Scout Group, Dutton Park Scout Group, Graceville Scout Group, Montrose Scout Group, Sherwood Scout Group, Tennyson Scout Group, Yeronga Scout Group [6]
Tarcoola District Groups (1983): Chelmer Scout Group, Corinda Scout Group, Dutton Park Scout Group, Montrose Scout Group, Pamphlett Scout Group, Sherwood Scout Group, Tennyson Scout Group, Yeronga Scout Group [7]
Tarcoola District Groups (1985) Chelmer Scout Group, Corinda Park Scout Group, Dutton Park Scout Group, Montrose Scout Group, Pamphlett, Scout Group Sherwood Scout Group, Tennyson Scout Group, Yeronga Scout Group [8]
Tarcoola District Groups (2018): Salisbury Scout Group; Clifton Hill Scout Group; Kurilpa Scout Group; Tarragindi Scout Group; Nursery Road Scout Group [9]
References
Australian Boy Scouts Association, Queensland Branch (1961). Annual Report 1961-1962.

Haskard, D. (1983). The complete book of Australian Scout badges: Part 2, Queensland and Papua New Guinea. Chatswood, NSW: Badgophilist Publications. p.24.

Australian Boy Scouts Association, Queensland Branch (1962). Annual Report 1961-1962.

The Scout Assoc of Australia, Queensland Branch (1988). Brisbane South Area Directory.

Tarcoola = Bend in the River. (30/10/2018) Retrieved from: https://trove.nla.gov.au/newspaper/article/51392923 The Australian Women's Weekly. We, 20 Dec 1961 p. 28.

The Boy Scouts Association, Queensland Branch (1971). Area, group and district directory 1971. Abel & Co.

The Scout Association of Australia, Qld Branch. (1983). Directory: Areas, Regions, Districts, Groups 1983.

The Scout Assoc of Australia, Queensland Branch (1985). Brisbane South Area Directory.

Scouts Australia, Queensland Branch (2018, March 7). Formation listing 2018. Retrieved from https://scoutsqld.com.au/members/formation-listing/