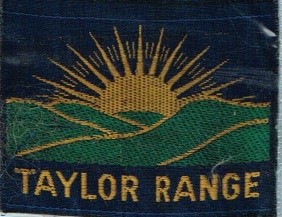 Taylor Range District (Ext) a

Badge Description
Green Hills & Valley = Green Hills within the Taylor Range.
Rising Sun = Taken from old Brisbane West district badge.  The design was originally inspired by the "Burnside" district badge from Southern Area, South Australia which depicted a sun rising over the Adelaide Hills" and was initiated by Maurice (Raven) Hinsch after the Greenbank Corroboree in 1957.  Maurice was Ashgrove GSM (Group Scout Master/Group Leader) at that time, and up until 1961.  The Sun over the hills relates to the fact that the sun never sets on Scouting around the world, while the twelve rays represent the Scout Promise, Scout Motto & the ten parts of the Scout Law in the 1960s. 
This is the first version of the Taylor Range district badge which was produced in 1957 without input from Branch Headquarters[1, 2].
Previous Badge Variations
The following are variations of the badge:
Type: Woven bound

(Background varieties, 2 shades = Black & Dark Blue)

Type: Ribbon 

(Issued Sept 1960)

Type Woven bound

52 x 52 mm

52 x 43 mm

52 x 52 mm

Ext

Ext

Ext
Groups
Taylor Range District Groups (1955) = Ashgrove Scout Group, 1st Bardon Scout Group, 2nd Bardon Scout Group, Dorrington Scout Group, The Gap Scout Group, Oakleigh Scout Group, St Johns Wood Scout Group
Taylor Range District Groups (1959) = Ashgrove Scout Group, Bardon North Scout Group, Bardon Scout Group, Dorrington Scout Group, The Gap Scout Group, Oakleigh Scout Group, St Johns Wood Scout Group [3]
Taylor Range District Groups (1968) = Ashgrove Scout Group, Bardon Scout Group, Dorrington Scout Group, The Gap Scout Group, Jubilee Scout Group, Oakleigh Scout Group, St Johns Wood Scout Group, Taraubul Scout Group [4]
Taylor Range District Groups (1971) = Ashgrove Scout Group, Bardon Scout Group, Dorrington Scout Group, The Gap Scout Group, Jubilee Scout Group, Mt. Mirrimbul, Oakleigh Scout Group, Taraubul Scout Group, St Johns Wood Scout Group [5]
Taylor Range District Groups (1983): Ashgrove Scout Group, Bardon Scout Group, Mt Mirrimbul Scout Group, Oakleigh Scout Group, St Johns Wood Scout Group, The Gap Scout Group [6]
Taylor Range District Groups (1990s): Ashgrove Scout Group, Bardon Scout Group, Mt Mirrimbul Scout Group, St Marks Church Scout Group, Oakleigh Scout Group, St Johns Wood Scout Group, The Gap Scout Group
Taylor Range District Groups (2018): Bardon Scout Group, Oakleigh Scout Group, St Johns Wood Scout Group, The Gap Scout Group [7]
References
Stephenson, M. (2017). Taylor Range district badge – 60th District Fact sheet
Haskard, D. (1983). The complete book of Australian Scout badges: Part 2, Queensland and Papua New Guinea.  Chatswood, NSW: Badgophilist Publications. p. 25.
Australian Boy Scouts Association, Queensland Branch (1960). Annual Report 1959-1960.
Boy Scouts Association, Queensland Branch (1968). Annual Report 1967-1968.
The Boy Scouts Association, Queensland Branch (1971). Area, group and district directory 1971. Abel & Co.
The Scout Association of Australia, Qld Branch. (1983). Directory: Areas, Regions, Districts, Group
Scouts Australia, Queensland Branch (2018, March 7). Formation listing 2018. Retrieved from https://scoutsqld.com.au/members/formation-listing/