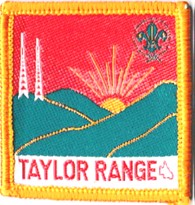 Taylor Range District (Ext) b

Badge Description
Scout logo
Green Hills & Valley = Green Hills within the Taylor Range with four gold valleys depicting the four sections of Scouting at the time (i.e, Cubs, Scouts, Senior Scouts, Rovers).
Towers = TV stations on Mount Mirrimbul.  This design was taken from the former Mt Coo-tha district badge.  Mt Coot-tha was absorbed into Taylor Range district in 1971.
Rising Sun = Taken from old Brisbane West district badge.  The design was originally inspired by the "Burnside" district badge from Southern Area, South Australia which depicted a sun rising over the Adelaide Hills" and was initiated by Maurice (Raven) Hinsch, Ashgrove Group Scout Master, after the Greenbank Corroboree in 1957 [1]. 
This is the second version of the Taylor Range District badge which was designed by John Stalley (Group Leader, The Gap Scout Group) in 1987 [1, 2].
History
Taylor Range district is named after Lieutenant-General Sir Herbert Taylor, Master Surveyor and the First  Private Secretary to Kings George III, George IV and William IV.  In 1825 John Oxley called the area, which was eventually named Mount Coot-tha, the 'Glen Morrison Range', but in 1828, the colonial botanist Charles Fraser, whilst looking at the range from the Ipswich area, noted the bearings as Sir Herbert Taylor's Range from which the current name derived.  The scout groups within Taylor Range district were originally part of Brisbane North West District (BNWD) which commenced in May 1934.  Following a redistribution of boundaries in 1955, Taylor Range District was formed.  The district issued its first badge without a scout identity in 1957, as it was locally inspired without input from Headquarters [1, 2].
Groups
Taylor Range District Groups (1955) = Ashgrove Scout Group, 1st Bardon Scout Group, 2nd Bardon Scout Group, Dorrington Scout Group, The Gap Scout Group, Oakleigh Scout Group, St Johns Wood Scout Group
Taylor Range District Groups (1959) = Ashgrove Scout Group, Bardon North Scout Group, Bardon Scout Group, Dorrington Scout Group, The Gap Scout Group, Oakleigh Scout Group, St Johns Wood Scout Group [3]
Taylor Range District Groups (1968) = Ashgrove Scout Group, Bardon Scout Group, Dorrington Scout Group, The Gap Scout Group, Jubilee Scout Group, Oakleigh Scout Group, St Johns Wood Scout Group, Taraubul Scout Group [4]
Taylor Range District Groups (1971) = Ashgrove Scout Group, Bardon Scout Group, Dorrington Scout Group, The Gap Scout Group, Jubilee Scout Group, Mt. Mirrimbul, Oakleigh Scout Group, Taraubul Scout Group, St Johns Wood Scout Group [5]
Taylor Range District Groups (1983): Ashgrove Scout Group, Bardon Scout Group, Mt Mirrimbul Scout Group, Oakleigh Scout Group, St Johns Wood Scout Group, The Gap Scout Group [6]
Taylor Range District Groups (1990s): Ashgrove Scout Group, Bardon Scout Group, Mt Mirrimbul Scout Group, St Marks Church Scout Group, Oakleigh Scout Group, St Johns Wood Scout Group, The Gap Scout Group
Taylor Range District Groups (2018): Bardon Scout Group, Oakleigh Scout Group, St Johns Wood Scout Group, The Gap Scout Group [7]
References
Stephenson, M. (2017). Taylor Range district badge – 60th District Fact sheet
Haskard, D. (1983). The complete book of Australian Scout badges: Part 2, Queensland and Papua New Guinea.  Chatswood, NSW: Badgophilist Publications. p. 25.
Australian Boy Scouts Association, Queensland Branch (1960). Annual Report 1959-1960.
Boy Scouts Association, Queensland Branch (1968). Annual Report 1967-1968.
The Boy Scouts Association, Queensland Branch (1971). Area, group and district directory 1971. Abel & Co.
The Scout Association of Australia, Qld Branch. (1983). Directory: Areas, Regions, Districts, Group
Scouts Australia, Queensland Branch (2018, March 7). Formation listing 2018. Retrieved from https://scoutsqld.com.au/members/formation-listing/