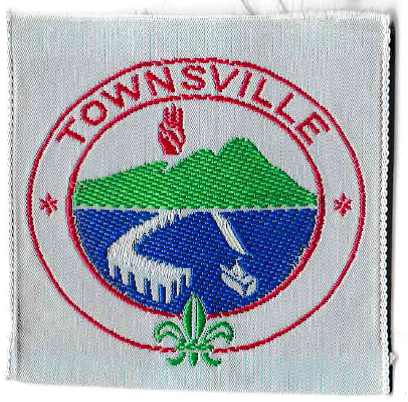 Townsville District (Ext)

Locations
 Belgian Gardens , West End (Townsville) (Cutheringa)  , Townsville Northern Localities (North Ward)  , Townsville City  , Ingham , Mundingburra, Hyde Park (Mysterton)  , Wulguru  , Palm Island , Aitkenvale  , Hermit Park  , Pimlico
Maps
 North Ward , Ingham , Mysterton , Palm Island , Aitkenvale  , Hermit Park  , Pimlico , Belgian Gardens  ,  Bluewater  , Townsville, Mundingburra  , Townsville-South  , Wulguru
Badge Description
Scout logo
Green Hill: Castle Hill
Red Hand: Scout sign
Jetty: with ferry/barge leaving for Magnetic Island and Palm Island. Magnetic Island was the site of Sir Leslie Wilson Camp Site, which was where camping and leader training was carried out between 1945–1971.
Boat: Container ship
Port: Port of Townsville handles mineral and agricultural exports from Northern Queensland.  The part handles container traffic.
The badge was first issued in July 1961 [3]
Previous Badge Variations
The following are variations of the badge: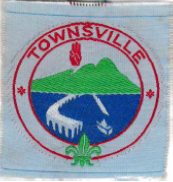 Type: Ribbon
50 x 48 mm
Ext
History
Townsville is named in honour of Robert Towns, a Sydney entrepreneur and businessman, in 1866 who provided ongoing financial assistance to the new settlement in Cleveland Bay. 
In terms of scouting, Townsville district was established in 1937 [1].  Townsville and District was mentioned in archival publications in 1938, and at the time its District Commissioner was Spenser Hopkins [2]. The district was orginally centered around the City of Townsville, but in 1968 split up into Castle Hill district, Mt Stuart district and Ross River district [3, 4].
Groups
Townsville District Groups (1968): Belgian Gardens Scout Group, Cutheringa Scout Group, North Ward Scout Group, Townsville City Scout Group, Ingham Scout Group, Estates Scout Group, Mundingbura Scout Group, Mysterton Scout Group, Wulguru Scout Group, Palm Island Scout Group, Aitkenvale Scout Group, Hermit Park Scout Group, Pimlico Scout Group, Florence Bay Rover Crew [5]
References
Flecker (2018). Joey Scout Leader, Loam Island, Kennedy Region,  Personal communique 9.3.2018.
The Totem (1938). "Appointments". Vol 2 (13), December p. 15.
Haskard, D. (1983). The complete book of Australian Scout badges: Part 2, Queensland and Papua New Guinea.  Chatswood, NSW: Badgophilist Publications. p. 25.
Scouting in Queensland (1968)"Inauguration of Kennedy Area". Vol 7 (11), December, p. 14-15.
Australian Boy Scouts Association, Queensland Branch (1968). Annual Report 1967-1968.